Worlds on Fire | Lexi Ostrow | AudioBook Free Download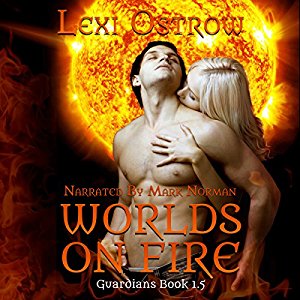 Worlds on Fire By Lexi Ostrow AudioBook Free Download
Written by: Lexi Ostrow
Narrated by: Mark Norman
Length: 5 hrs 
Series: Guardians (Ostrow), Book 1.5
Unabridged Audiobook
Release Date:04-07-16
Publisher: Lexi Ostrow
Worlds on Fire AudioBook Summary
Julian Michelson is a firefighter in a small town in Alabama. He's been struggling for years to prove to himself that Word Speakers, people who can pull characters from books, exist. Why? Because he's supposed to be one and he's failed every step of the way and a war is supposedly coming.
Serena, a princess in fictional medieval Britain, is the epitome of a good girl. She lives to appease her father and her country. That is, until she felt a strange voice in her head before waking up and seeing a handsome man through the flames of a fire in a strange world. Now she's stuck in his world and is none too happy with him despite her fascination with the new world and her growing attraction for him.
Julian must make amends with Serena, his first and only Guardian, because if she leaves, he can kiss his gift goodbye. A lust they can't deny spikes between them as Word Speaker and Guardian and they must decide – are they in the fight together, or do they go their separate ways?
File Size: 136.47 MB
Format: M4B
Download
http://rapidgator.net/file/1974979b81ef95e789e58460ad4d18ea/Lexi_Ostrow_-_Worlds_on_Fire.m4b.html