Witches Abroad By Terry Pratchett Narrated By Bill Nighy (2022 Edition)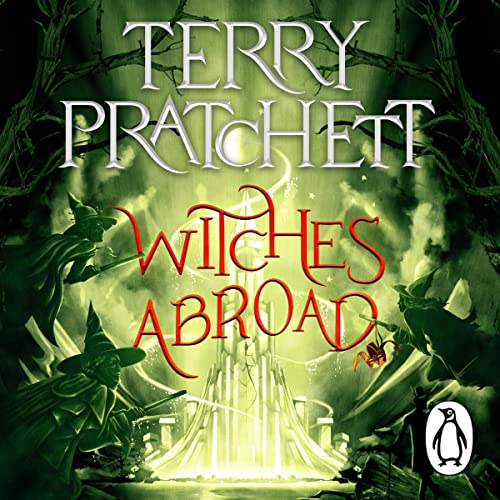 Narrated by: Indira Varma, Peter Serafinowicz, Bill Nighy
Series: Discworld: Witches, Book 3, Discworld, Book 12
Length: 9 hrs and 53 mins
Release date: 04-28-22
Witches Abroad By Terry Pratchett AudioBook Summary
The audiobook of Witches Abroad is narrated by Indira Varma (Game of Thrones; Luther; This Way Up). BAFTA and Golden Globe award-winning actor Bill Nighy (Love Actually; Pirates of the Caribbean; Harry Potter and the Deathly Hallows) reads the footnotes, and Peter Serafinowicz (Star Wars: Episode I – The Phantom Menace; Shaun of the Dead) stars as the voice of Death. Featuring a new theme tune composed by James Hannigan.
'You can't go around building a better world for people. Only people can build a better world for people. Otherwise, it's just a cage.'
There's power in stories. The Fairy Godmother is good. The servant girl marries the Prince. Everyone lives happily ever after…don't they?
The witches Granny Weatherwax, Nanny Ogg and Magrat Garlick are travelling to far-distant Genua to stop a wedding and save a kingdom. But how do you fight a happy-ever-after, especially when it comes with glass slippers and a power-hungry Fairy Godmother who has made Destiny an offer it can't refuse?
Download
https://rg.to/file/2653af62e4dbc5e89917bcd4add1e0bf/Terry_Pratchett_-_Witches_Abroad.zip.html