The Wisdom of History | The Great Courses | AudioBook Free Download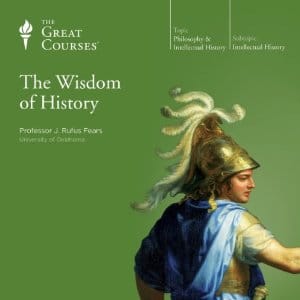 The Wisdom of History By The Great Courses AudioBook Free Download
Written by: The Great Courses
Narrated by: Professor J. Rufus Fears
Length: 18 hrs and 22 mins 
Series: The Great Courses: Intellectual History
Lecture
Release Date:07-08-13
Publisher: The Great Courses
The Wisdom of History AudioBook Summary
Do the lessons passed down to us by history, lessons whose origins may lie hundreds, even thousands of years in the past, still have value for us today? Is Santayana's oft-repeated saying, "Those who cannot remember the past are condemned to repeat it," merely a way to offer lip service to history as a teacher – or can we indeed learn from it? And if we can, what is it that we should be learning?
In this unflinching series of 36 lectures, a world-renowned scholar makes the case that we not only can learn from history, but must.
Drawing on decades of experience as a classical historian, Professor Fears explores history's patterns to conclude that ignoring them – whether by choice or because we've never learned to see them – is to risk becoming their prisoner, repeating the mistakes that have toppled leaders, nations, and empires throughout time.
In this personal reflection on history, Professor Fears has taken on the challenge of extracting the past's lessons in ways that speak to us today, showing us how the experience of ancient empires such as those of Rome and Persia have much to teach us about the risks and responsibilities of being a superpower.
He shows how the study of those who left their impact on an earlier world – Caesar Augustus or Genghis Khan, George Washington or Adolf Hitler, Mahatma Gandhi or Josef Stalin – can equip us to make responsible choices as nations, citizens, or individuals in a post-9/11 world where those choices are more crucial than ever.
File Size: 994.08 MB
Format: MP3
Download
https://rg.to/file/192aab30fb41d09d88171a25c7484009/J._Rufus_Fears_-_The_Wisdom_of_History.zip.html