White Sand: Volume Three [Dramatized Adaptation] By Brandon Sanderson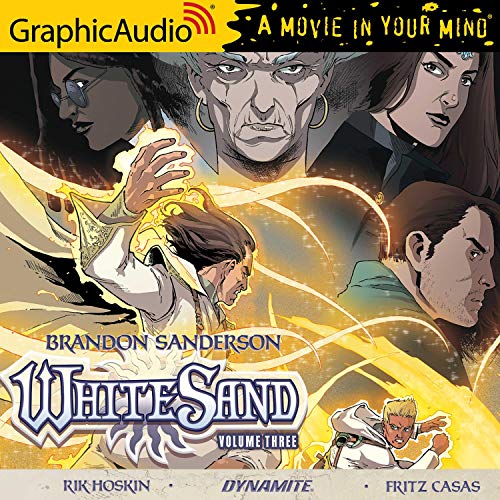 Narrated by: Terence Aselford, Alexander Strain, Dawn Ursula, Yasmin Tuazon, Scott McCormick, Bradley Smith, Jason B McIntosh, Holly Vagley, Nick DePinto, Joe Mallon, KenYatta Rogers, Frank Britton, Ken Jackson, Steve Wannall, full cast
Series: White Sand, Book 3
Length: 5 hrs and 5 mins
Release date: 10-17-20
White Sand: Volume Three [Dramatized Adaptation] By Brandon Sanderson Audio Book Summary
Underpowered and overwhelmed, Kenton tries to hold the Sand Masters together as forces political and personal conspire against them.
Now, in one final push, Kenton must tap the most dangerous depths of his own abilities to combat the enemies within his own guild and discover the truth behind the ambush that killed his father and almost destroyed the Sand Masters for good.
Performed by Terence Aselford, Alexander Strain, Dawn Ursula, Yasmin Tuazon, Scott McCormick, Bradley Smith, Jason B McIntosh, Holly Vagley, Nick DePinto, Joe Mallon, KenYatta Rogers, Frank Britton, Ken Jackson, Steve Wannall, Duyen Washington, Eric Messner, Thomas Keegan, Michael John Casey, Todd Scofield, Michael Glenn, James Lewis, Alejandro Ruiz, Nora Achrati, Andy Brownstein, Paul Reisman, Matthew Bassett, Jonathon Church, Peter Holdway, Chris Genebach, Richard Rohan, Chris Davenport, Tia Shearer, Joy Jones.
Download
https://rg.to/file/96e70a507fa82e16c90772f30a4d261e/Brandon_Sanderson_-White_Sand_Volume_Three[Dramatized_Adaptation].zip.html