Vagus Nerve Stimulation By Masahiko Totomi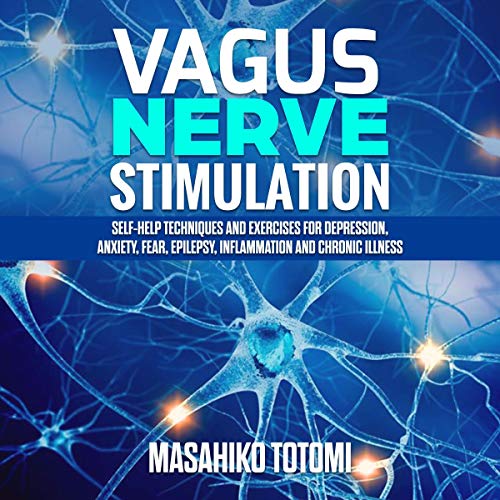 Narrated by: Angela Nurse
Length: 5 hrs and 43 mins
Release date: 03-23-20
Vagus Nerve Stimulation AudioBook Summary
Relieve pain, improve your symptoms, and even heal from diseases – by manipulating the vagus nerve!
Your body has secrets. Most of them are still unknown to science. But as research and technology improve, new mind-blowing revelations occur – and anyone can take advantage of them.
One of the latest secrets revealed in the last few years is the secret vagus nerve.
Eighty to ninety percent of the fibers in the vagus nerve are responsible for sensations inside your body. If you could manipulate this nerve and optimize it, you could drastically change your life and relieve pain that feels like it's been there forever!
In this outstanding book, you will expose the truth about your vagus nerve, the triggers that can activate it and change it, and even how you can use it for self help, anxiety, and depression!
Here's just a glimpse of what's in this audiobook:
Human body secrets: Discover what the human body is made of, what systems occur inside of it, and how you can use this knowledge for relieving pain.
The ultimate guide to the nervous system: Understand the structure of the nervous system and rewire it to improve your life.
Everything you need to know about the vagus nerve: Expose the functions of the vagus nerve, the importance of it, and what it actually does.
New studies about vagus nerve stimulation: Learn how the vagus nerve affects the body, get proven techniques to stimulate it, and start changing your life.
The cure for anxiety and fear: Learn what nerves influence anxiety and fear and use this knowledge to overcome depression, social anxiety, and negative feelings.
And much, much more exclusive content that you will not find anywhere else!
Convinced?
File Size: 315.13 MB
Download
https://rg.to/file/0267d98d1c7f8e7311860f55b813e712/Masahiko_Totomi_-_Vagus_Nerve_Stimulation.mp3.html