Unseen Academicals By Terry Pratchett Narrated By Bill Nighy (2022 Edition)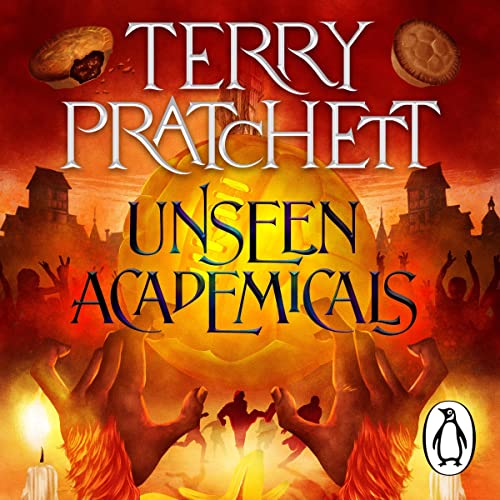 Narrated by: Colin Morgan, Peter Serafinowicz, Bill Nighy
Series: Discworld: Rincewind, Book 8, Discworld, Book 37
Length: 15 hrs and 9 mins
Release date: 07-07-22
Unseen Academicals By Terry Pratchett AudioBook Summary
The audiobook of Unseen Academicals is read by Colin Morgan (Merlin; Testament of Youth; Belfast). BAFTA and Golden Globe award-winning actor Bill Nighy (Love Actually; Pirates of the Caribbean; Harry Potter and the Deathly Hallows) reads the footnotes, and Peter Serafinowicz (Star Wars: Episode I – The Phantom Menace; Shaun of the Dead) stars as the voice of Death. Featuring a new theme tune composed by James Hannigan.
'We play and are played and the best we can hope for is to do it with style.'
Football has come to the ancient city of Ankh-Morpork. And now the wizards of Unseen University must win a football match without using magic…so they're in the mood for trying everything else.
To do so, they recruit an unlikely group of players: Trev, a street urchin with a talent for kicking a tin can; Glenda, the night chef who makes a mean pie; Juliet, the kitchen hand turned world's greatest fashion model; and the mysterious Mr Nutt, who has something powerful, and dark, locked away inside him….
And the thing about football—the important thing about football—is that it is not just about football. Here we go, here we go, here we go!
Download
https://rg.to/file/f73f608f526fc0b8d6704a76757f5656/Terry_Pratchett_-_Unseen_Academicals.m4b.html