Tools: A History By Dominic Chinea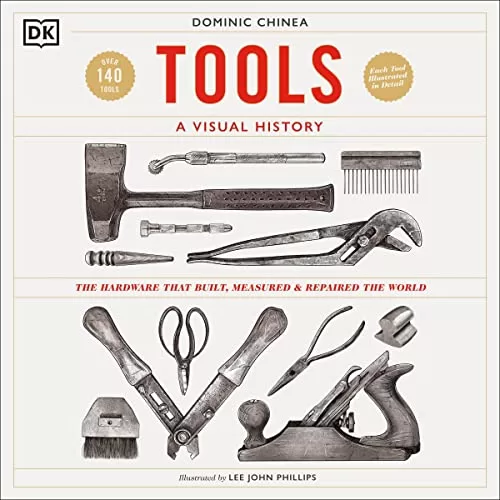 Narrated by: Gordon Griffin
Length: 5 hrs and 29 mins
Release date: 10-06-22
Tools: A History By Dominic Chinea AudioBook Summary
A must-listen for makers, tinkerers, fixers and creators, The Repair Shop's Dominic Chinea shares his knowledge and enthusiasm for the history and practical uses of tools.
A tool is an object with endless possibilities. Contained within each item is the chance to create, to inspire, to repair and improve. It's no wonder that scientific studies have shown humans are hardwired to appreciate hardware. This book is a celebration of both that potential and our reverence, exploring more than 150 incredible tools, their history, their unique appeal and how they are used by creative people to make just about anything.
From the workhorses designed to fuel the industrial revolution to the specialist tools that allow highly skilled artisans to produce ornate creations, this book shines a light on the most interesting tools found in the workshop of expert craftsman Dom Chinea. This book will become a trusted reference for all creators and craftspeople.
Download
https://rg.to/file/00c5dc531815f250e26fe4e764ef5cb5/Dominic_Chinea_-_Tools_A_History.mp3.html