The World's Worst Assistant By Sona Movsesian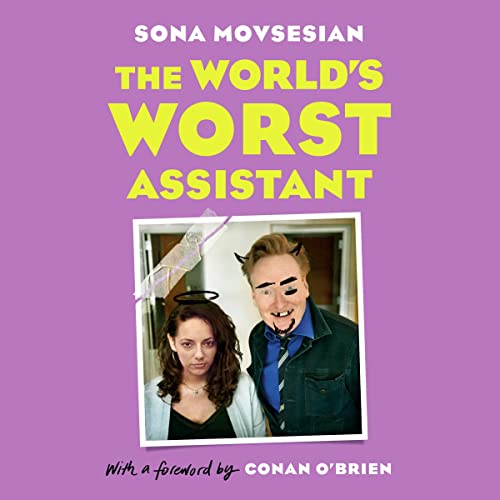 Narrated by: Sona Movsesian, Conan O'Brien
Length: 5 hrs and 25 mins
Release date: 07-19-22
The World's Worst Assistant By Sona Movsesian AudioBook Summary
From Conan O'Brien's longtime assistant and cohost of his podcast, Conan O'Brien Needs a Friend, a completely hilarious and irreverent how-to guide for becoming a terrible, yet unfireable employee, spilling her trade secrets for minimizing effort while maximizing the rewards.
Sona Movsesian didn't wake up one day and decide to become the World's Worst Assistant. Achieving such greatness is a gradual process—one that starts with long hours and hard work before it eventually descends into sneaking low-dosage edibles into your lunch and napping on your boss's couch.
With a forward from Conan O'Brien, The World's Worst Assistant is a mixture of how-tos (like How to Nap at Work and How to Watch TV at Your Desk), tips for becoming untouchable (like memorizing social security and credit card numbers and endearing yourself to friends and family), and incredible personal stories from Sona's twelve years spent working for Conan that put their adorable closeness and professional dysfunction on display. In this audiobook, Sona will explain her descent from eager, hard-working, ambitious, detail-orientated assistant to self-awarded title-holder for the worst in history.
Download
https://rg.to/file/cb59281ba98182e6de5294dbca0e04e4/Sona_Movsesian_-_The_World's_Worst_Assistant.mp3.html