The Warsaw Protocol By Steve Berry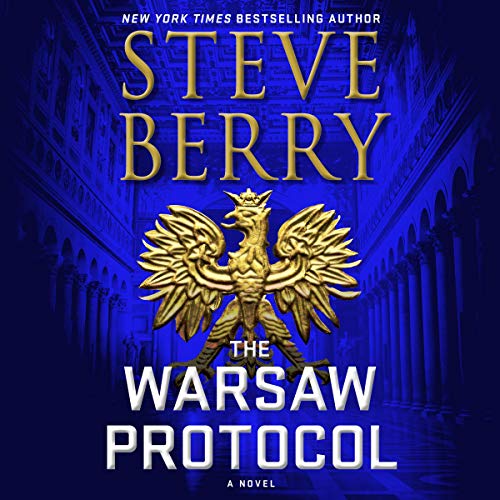 Narrated by: Steve Berry, Scott Brick
Series: Cotton Malone, Book 15
Length: 11 hrs and 48 mins
Release date: 03-03-20
The Warsaw Protocol AudioBook Summary
In this audiobook, Steve Berry and Macmillan Audio team up again to bring listeners an expanded, annotated Writer's Cut edition of The Warsaw Protocol. This Writer's Cut edition features fascinating behind-the-scenes commentary read by the author.
Critically-acclaimed and award-winning narrator Scott Brick returns to his role as Cotton Malone – eponymous hero of Berry's iconic New York Times best-selling series – as the seven precious relics of the Arma Christi, the weapons of Christ, disappear one by one from sanctuaries across the world.
After former Justice Department agent Cotton Malone witnesses the theft of one of them, he learns from his old boss, Stephanie Nelle, that a private auction is about to be held where incriminating information on the president of Poland will be offered to the highest bidder – blackmail that both the United States and Russia want, but for vastly different reasons.
The price of admission to that auction is one of the relics, so Malone is first sent to a castle in Poland to steal the Holy Lance, a 1,000-year-old spear sacred to not only Christians but to the Polish people, and then on to the auction itself. But nothing goes as planned, and Malone is thrust into a bloody battle between three nations over information that, if exposed, could change the balance of power in Europe.
From the tranquil canals of Bruges, to the elegant rooms of Wawel Castle, to deep beneath the earth into an ancient Polish salt mine, Malone is caught in the middle of a deadly war – the outcome of which turns on a secret known as the Warsaw Protocol.
File Size: 241.49 MB
Download
https://rapidgator.net/file/ca1dbd9daf209fc86b371e78eead0dc3/Steve_Berry_-_The_Warsaw_Protocol.zip.html