The United States of Beer By Dane Huckelbridge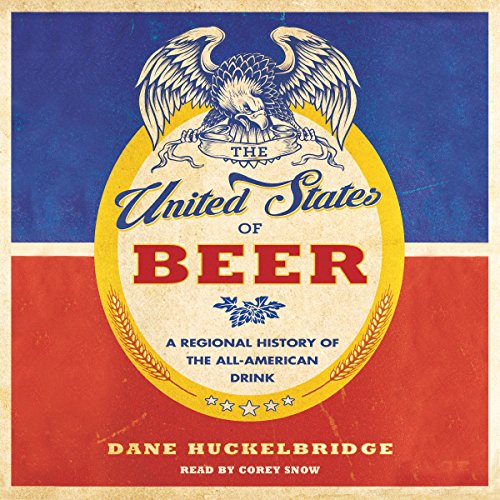 Narrated by: Corey Snow
Length: 6 hrs and 47 mins
Release date: 06-14-16
The United States of Beer AudioBook Summary
From the author of Bourbon, "the definitive history" (Sacramento Bee), comes the rollicking and revealing story of beer in America, in the spirit of Salt or Cod.
In The United States of Beer, Dane Huckelbridge, the author of Bourbon: A History of the American Spirit – a Southern Independent Booksellers Alliance best seller – charts the surprisingly fascinating history of Americans' relationship with their most popular alcoholic beverage. Huckelbridge shows how beer has evolved along with the country – from a local and regional product (once upon a time, every American city had its own brewery and iconic beer brand) to the rise of global megabrands, like Budweiser and Miller, that are synonymous with US capitalism.
We learn of George Washington's failed attempt to brew beer at Mount Vernon with molasses instead of barley; of the 19th-century "beer barons", like Captain Frederick Pabst, Adolphus Busch, and Joseph Schlitz, who revolutionized commercial brewing and built lucrative empires – and the American immigrant experience; and of the advances in brewing and bottling technology that allowed beer to flow in the saloons of the Wild West. Throughout, Huckelbridge draws connections between seemingly remote fragments of the American past and shares his reports from the frontline of today's craft-brewing revolution.
File Size: 186.44 MB
Download
https://rg.to/file/0a1330467326752e58073e9933d35d42/Dane_Huckelbridge_-_The_United_States_of_Beer.mp3.html