The Ultimate Rich Dad Library By Robert Kiyosaki, Kim Kiyosaki, Blair Singer, Ken McElroy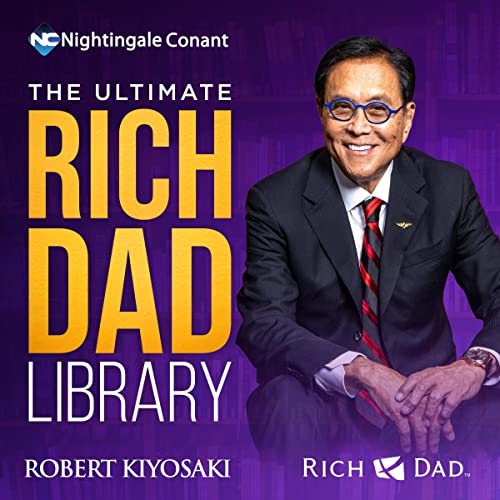 Narrated by: Robert Kiyosaki, Kim Kiyosaki, Blair Singer, Ken McElroy, Dan Strutzel
Series: Nightingale-Conant: Wealth & Finance
Length: 11 hrs and 34 mins
Release date: 09-01-22
The Ultimate Rich Dad Library By Robert Kiyosaki, Kim Kiyosaki, Blair Singer, Ken McElroy Audio Book Summary
The Nightingale-Conant Corporation is pleased to present The Ultimate Rich Dad Library—featuring world-renowned investor, author, speaker, and entrepreneur Mr. Robert Kiyosaki.
In this priceless audio collection, you'll hear classic audio segments from Robert, as well as from Kim Kiyosaki and even a few Rich Dad Advisors. These classic segments are taken from 11 different audio programs—including one of Nightingale-Conant's fastest-selling programs of all time, Rich Dad Secrets—and featuring studio recordings, live seminar recordings, and audio interviews. In fact, some of the audio segments that follow have not been available to public for some time—and are now yours to hear and profit from for years to come!
But more important than the source of these unforgettable sound recordings is the life-changing wisdom about money, wealth, success and achievement that they contain. Given that you have invested in this collection, you are likely aware of Robert Kiyosaki's classic work: Rich Dad, Poor Dad. And you'll hear several key ideas from this classic work as part of this collection. But you may not be aware of the large body of principles and ideas from Rich Dad that went well beyond the scope of that classic work—and literally encompassed every meaningful area of investing, entrepreneurial success and wealth—to ultimately achieve Rich Dad's mission: to elevate the financial well-being of humanity.
Here's just a sampling of what you'll learn in this series:
The difference between an investment and a liability.
The difference between earning a high income and achieving long-term wealth.
Why one of the most important concepts in your financial education is cash flow.
The futility of trying to secure a "safe, secure job."
Why "hard work" and "financial success" are not necessarily related.
Ideas for getting started on your wealth journey—even if you are currently deeply in debt.
The 7 types of investors
Ultimate Rich Dad business and real estate success secrets
And so much more!
Download
https://rg.to/file/88db445b99feed42ebe734861a1e8bc4/Robert_Kiyosaki,Kim_Kiyosaki,_Blair_Singer,_Ken_McElroy-_The_Ultimate_Rich_Dad_Library.zip.html