The Tales of Beedle the Bard By J.K. Rowling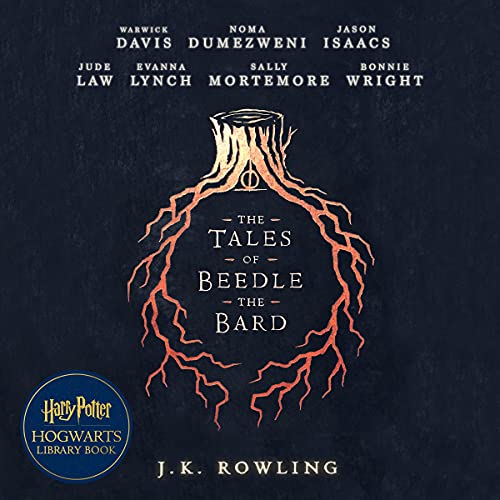 Narrated by: Warwick Davis, Noma Dumezweni, Jason Isaacs, Jude Law, Evanna Lynch, Sally Mortemore, Bonnie Wright
Series: Wizarding World, Wizarding World, Hogwarts Library Books
Length: 1 hr and 35 mins
Release date: 03-31-20
The Tales of Beedle the Bard By J.K. Rowling AudioBook Summary
"The heroes and heroines who triumph in his stories are not those with the most powerful magic, but rather those who demonstrate the most kindness, common sense and ingenuity."
As every fan of the Harry Potter stories knows, the shelves of the Hogwarts Library are home to all sorts of fascinating books. There are three in particular you might have heard mentioned by certain Hogwarts students and that you can add to your listening list too, including The Tales of Beedle the Bard.
As familiar to Hogwarts students as Cinderella and Sleeping Beauty are to Muggle children, Beedle's stories are a collection of popular fairy tales written for young witches and wizards. So, if you're wondering what's in store…well, your ears are in for a treat.
Once you've checked this fabulous Hogwarts Library book out, you'll start by hearing the author's introduction, read by Sally Mortemore (librarian Madam Pince from the Harry Potter films). Then it's time for the tales to begin….
You'll laugh along to "The Wizard and the Hopping Pot" as you listen to the havoc wreaked by a father's impish gift to his son, read by Warwick Davis (Professor Flitwick – Harry Potter films).
"The Fountain of Fair Fortune" will take you on a quest through an enchanted garden, alongside three witches and a luckless knight, read by Evanna Lynch (Luna Lovegood – Harry Potter films).
In "The Warlock's Hairy Heart", you'll be warned about a young warlock who is fearful of love and turns to dark magic to avoid it at all costs, read by Jason Isaacs (Lucius Malfoy – Harry Potter films).
The calamitous meeting of a foolish king, a cunning charlatan, and a mischievous washerwoman unravels in "Babbitty Rabbitty and Her Cackling Stump", read by Bonnie Wright (Ginny Weasley – Harry Potter films).
Download
https://rg.to/file/0b1f161caab855439df3e8a1086cfb79/J.K.Rowling-_Tales_of_Beedle_the_Bard.m4b.html