The Sexual Addicts Recovery Project 2 in 1 Value Collection By David Whitehead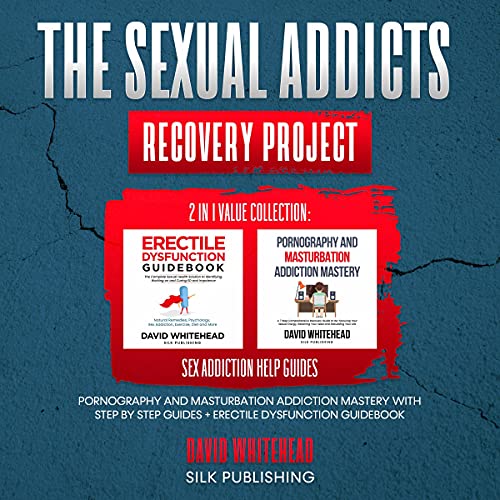 Narrated by: Jerry Wright, Creig P. Sherburne
Length: 5 hrs and 17 mins
Release date: 09-23-21
The Sexual Addicts Recovery Project 2 in 1 Value Collection AudioBook Summary
David Whitehead's most ambitious series: The Sexual Addicts Recovery Project

Two-in-one value collection:
Pornography and Masturbation Addiction Mastery: A 7 Step Comprehensive Recovery Guide to Re-Focusing Your Sexual Energy, Retaining Your Seed and Rebuilding Your Life
Erectile Dysfunction Guidebook: The Complete Sexual Health Solution to Identifying, Working on and Curing ED and Impotence: Natural Remedies, Psychology, Sex Addiction, Exercise, Diet and More
Give yourself an actionable plan!
In this book, you will learn:
The basics of sexual addiction
Common signs and symptoms of sexual addiction
The cycle of sexual addiction
Types and characteristics of sexual addiction
The causes and problems of sexual addiction
Levels of sexual addiction
How a sexual addict thinks and behaves
Cybersex and porn addiction
How porn rewires your brain
How to recover from sexual addiction, guilt, and shame
Recovery resources to help you through your sexual addiction recovery journey
Every addict comes to a point in his or her life when the consequences are so severe, or the pain is so excruciating that the addict admits his or her sexual behavior has taken control of his or her life. Some are newsworthy, such as when a congressman, minister, or professional figure is chastised for unacceptable sexual behavior. Millions of people read the steamy news accounts and, despite their lust, pass harsh judgment on people who are sexual with children, visit prostitutes, commit homosexual acts in public restrooms, or even have affairs. A smaller but far larger audience read each line, fearful that the same public exposure would happen to them and judging themselves with the same unforgiving standards as the public.
Download
https://rg.to/file/0a02a0459b4320418a0c1f92c1652946/David_Whitehead_-_The_Sexual_Addicts_Recovery_Project_2_in_1_Value_Collection.m4b.html