The Secret Thoughts of Successful Women By Valerie Young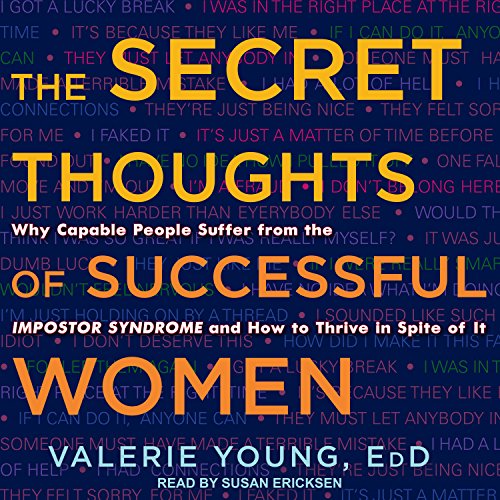 Narrated by: Susan Ericksen
Length: 9 hrs and 38 mins
Release date: 03-28-17
The Secret Thoughts of Successful Women AudioBook Summary
It's only because they like me. I was in the right place at the right time. I just work harder than the others. I don't deserve this. It's just a matter of time before I am found out. Someone must have made a terrible mistake.
If you are a working woman, chances are this internal monologue sounds all too familiar. And you're not alone. From the high-achieving PhD candidate convinced she's been admitted to the program only because of a clerical error to the senior executive who worries others will find out she's in way over her head, a shocking number of accomplished women in all career paths and at every level feel as though they are faking it – impostors in their own lives and careers.
In The Secret Thoughts of Successful Women, Valerie Young explains what the impostor syndrome is, why fraud fears are more common in women, and how you can recognize the way it manifests in your life. With her empowering step-by-step plan, you will learn to take ownership of your success, overcome self-doubt, and banish the thought patterns that undermine your ability to feel – and act – as bright and capable as others already know you are.
File Size: 257.04 MB
Download
https://rg.to/file/cf9cc98e3d3cc3e92852d441fd6598d0/Valerie_Young_-_The_Secret_Thoughts_of_Successful_Women.zip.html