The Real Ambassadors By Keith Hatschek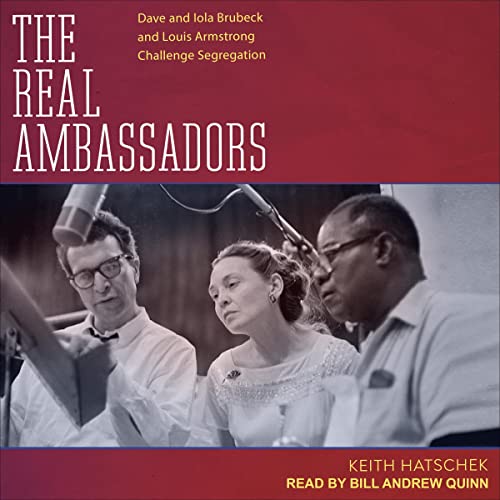 Narrated by: Bill Andrew Quinn
Length: 9 hrs and 29 mins
Release date: 08-16-22
The Real Ambassadors By Keith Hatschek AudioBook Summary
Keith Hatschek tells the story of three determined artists: Louis Armstrong, Dave Brubeck, and Iola Brubeck and the stand they took against segregation by writing and performing a jazz musical titled The Real Ambassadors. First conceived by the Brubecks in 1956, the musical's journey to the stage for its 1962 premiere tracks extraordinary twists and turns across the backdrop of the civil rights movement.
During the Cold War, the US State Department enlisted some of America's greatest musicians to serve as jazz ambassadors, touring the world to trumpet a so-called "free society." Honored as celebrities abroad, the jazz ambassadors, who were overwhelmingly African Americans, returned home to racial discrimination and deferred dreams. The Brubecks used this double standard as the central message for the musical, deploying humor and pathos to share perspectives on American values.
On September 23, 1962, The Real Ambassadors's stunning debut moved a packed arena at the Monterey Jazz Festival to laughter, joy, and tears. The Real Ambassadors: Dave and Iola Brubeck and Louis Armstrong Challenge Segregation caps this jazz story by detailing how the show was revived in 2014 by Jazz at Lincoln Center, reaffirming the musical's place as an integral part of America's jazz history.
Download
https://rg.to/file/6fd16bd4d9473819f9f9d047e2a56d49/Keith_Hatschek_-_The_Real_Ambassadors.zip.html