The PTSD Workbook, Third Edition By Mary Beth Williams PhD CTS, Soili Poijula PhD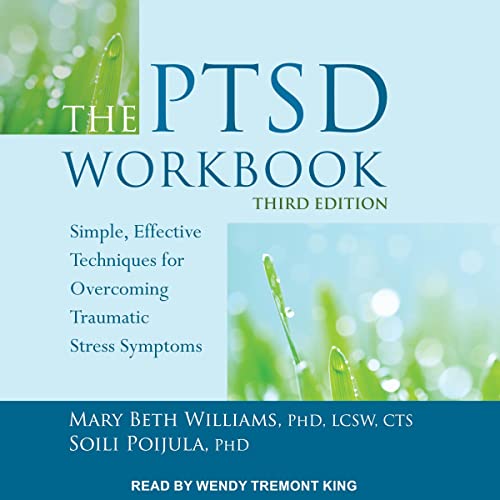 Narrated by: Wendy Tremont King
Length: 14 hrs and 45 mins
Release date: 08-23-22
The PTSD Workbook, Third Edition By Mary Beth Williams PhD CTS, Soili Poijula PhD AudioBook Summary
PTSD is a debilitating condition that can occur after exposure to a terrifying event. But whether you're a veteran of war, a victim of domestic violence or sexual violence, or have been involved in a natural disaster, crime, car accident, or accident in the workplace, your symptoms may be getting in the way of you living your life.
In The PTSD Workbook, Third Edition, psychologists and trauma experts Mary Beth Williams and Soili Poijula outline techniques used by PTSD experts from around the world to conquer distressing trauma-related symptoms. You'll learn how to move past the trauma you've experienced and manage symptoms such as insomnia, anxiety, and flashbacks.
Based in cognitive behavioral therapy (CBT), this book is accessible and easy to use, offering evidence-based therapy at a low cost. This new edition features chapters focusing on veterans with PTSD, the link between cortisol and adrenaline and its role in PTSD and overall mental health, and the mind-body component of PTSD. Clinicians will also find updates reflecting the new DSM-V definition of PTSD.
Download
https://rg.to/file/1afd1f8b478c20645e2a680b15b5e61d/Mary_Beth_Williams_PhD_CTS,Soili_Poijula_PhD-_The_PTSD_Workbook,_Third_Edition.zip.html