The Miranda Obsession By Jen Silverman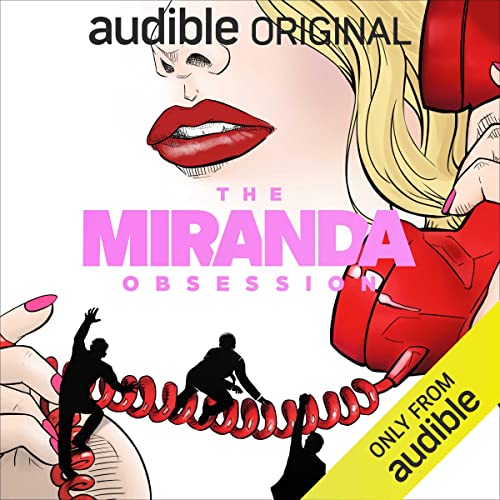 Narrated by: Rachel Brosnahan, Josh Groban, John Benjamin Hickey, Morgan Spector, Harry Lloyd, Milo Ventimiglia, full cast
Length: 2 hrs and 40 mins
Release date: 04-28-22
The Miranda Obsession By Jen Silverman AudioBook Summary
Emmy Award-winning actress Rachel Brosnahan brings to life a thrilling tale of intimacy and self-invention inspired by one of Hollywood's most alluring stories of the 1980s. Josh Groban, John Benjamin Hickey, Harry Lloyd, Morgan Spector, and Milo Ventimiglia also star, playing some of the most powerful and famous men of the decade, who fall under Miranda's enigmatic and captivating spell.
Imagine a 1980s world of sumptuous hotel rooms, restaurants, New York City penthouses, and the powerful men who move easily between these pinnacles of luxury. They are music producers, rock stars, writers, and restaurateurs. They are household names like Billy Joel, Art Garfunkel, Eric Clapton, and Sting. And yet, each man has an entire aspect to his life that he doesn't talk about publicly—his depression, his rocky marriage, his feelings of shame and failure, his private loss of faith. And now: The phone rings. Imagine the woman who has each of these men at her beck and call. Late at night, on the other end of the line, she projects a confidence and glamour that immediately disarms them. They don't know her, but she intimately understands the feelings they've never articulated to anybody else, and she muses—low and soft, never making them feel uncomfortable—on what it means that they feel this way, and why. When these men talk to Miranda, they never feel alone. And when she talks to them, she feels alive. Before long, they're giving her insider tidbits—on new mergers, movies, albums, restaurants—and she's collecting this information like the currency it is. Then she vanishes, sometimes for weeks at a time, while they wait on edge for her to call again.
Her name is Miranda Grosvenor, and the telephone persona that she has invented—a desirable, connected, compassionate, power player—is the person she lives to be. But who is Miranda, really? As the relationships between Miranda and the famous men she calls escalate, it becomes clear that Miranda may not be who she says she is and that her game is no longer a game at all.
Download
https://rg.to/file/a59627f592d9c5909b4697ec12c3a361/Jen_Silverman_-_The_Miranda_Obsession.m4b.html