The Light Fantastic By Terry Pratchett Narrated By Bill Nighy (2022 Edition)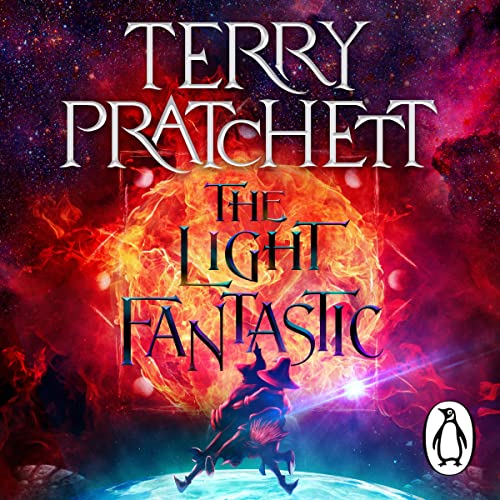 Narrated by: Colin Morgan, Peter Serafinowicz, Bill Nighy
Series: Discworld, Book 2, Discworld: Rincewind, Book 2
Length: 7 hrs and 42 mins
Release date: 07-07-22
The Light Fantastic By Terry Pratchett AudioBook Summary
The audiobook of The Light Fantastic is read by Colin Morgan (Merlin; Testament of Youth; Belfast). BAFTA and Golden Globe award-winning actor Bill Nighy (Love Actually; Pirates of the Caribbean; Harry Potter and the Deathly Hallows) reads the footnotes, and Peter Serafinowicz (Star Wars: Episode I – The Phantom Menace; Shaun of the Dead) stars as the voice of Death. Featuring a new theme tune composed by James Hannigan.
'Darkness isn't the opposite of light, it is simply its absence…what was radiating from the book was the light that lies on the far side of darkness, the light fantastic.'
The Discworld is in danger, heading towards a seemingly inevitable collision with a malevolent red star, its magic fading. It needs a hero, and fast.
What it doesn't need is Rincewind, an inept and cowardly wizard who is still recovering from the trauma of falling off the edge of the world. Or Twoflower, the well-meaning tourist whose luggage has a mind (and legs) of its own.
Download
https://rg.to/file/4aebf08e9f02da41bd797957700115cc/Terry_Pratchett_-_The_Light_Fantastic.zip.html