The Lake House By Kate Morton AudioBook Download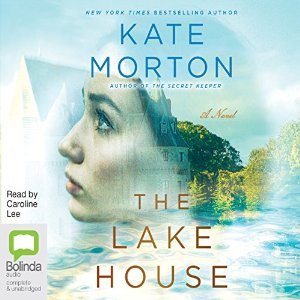 The Lake House By Kate Morton AudioBook Download
Written by: Kate Morton
Narrated by: Caroline Lee
Length: 21 hrs and 24 mins 
Unabridged Audiobook
Release Date:10-22-15
Publisher: Bolinda Publishing Pty Ltd
Summary
A master storyteller and one of our favorite performers have teamed up again (you haven't forgotten Forgotten Garden have you?). Here, they put you right in the heart of a lush, atmospheric novel set in an English country house where dangerous family mysteries unfold.
Living on her family's gorgeous lakeside estate in Cornwall, England, Alice Edevane is a bright, clever, inquisitive, innocent, and precociously talented 14-year-old who loves to write stories. But the mysteries she pens are no match for the one her family is about to endure….
One midsummer's eve, after a beautiful party drawing hundreds of guests to the estate has ended, the Edevanes discover that their youngest son, Theo, has vanished without a trace. What follows is a tragedy that tears the family apart in ways they never imagined, leaving their estate as empty as their broken hearts.
Nearly 60 years later, having enjoyed a long, successful career as an author, Alice is now 80 years old and living in London. Theo's case has never been solved, though Alice still harbors a suspicion as to the culprit.
Miles away, Sadie Sparrow, a young detective in the London police force, is staying at her grandfather's house in Cornwall. While out walking one day, she stumbles upon the old estate—now crumbling and covered with vines, clearly abandoned long ago.
Become completely immersed in narrator Caroline Lee's nuanced performance. Lose yourself in this lovely and mysterious world as you follow Sadie while she chases clues that will bring her and Alice together and reveal shocking truths about a past long gone…yet more present than ever.
File Size: 404.78 MB
Format: MP3
Download
http://rapidgator.net/file/49f4a3ef7eb8335afd569ff32581fb5b/the_lakehouse.mp3.html
Or
http://nitroflare.com/view/2EC6A531A79EAAB/the_lakehouse.mp3