The Judge's List By John Grisham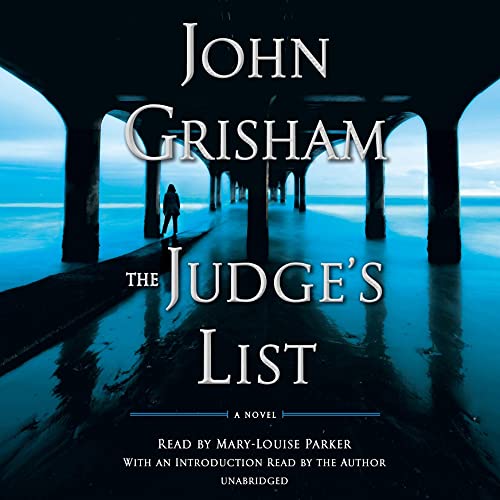 Narrated by: Mary-Louise Parker, John Grisham
Series: The Whistler, Book 2
Length: 11 hrs and 36 mins
Release date: 10-19-21
The Judge's List AudioBook Summary
Number one New York Times Best Seller • Nonstop suspense from the number one New York Times best-selling author: Investigator Lacy Stoltz follows the trail of a serial killer, and closes in on a shocking suspect — a sitting judge.
In The Whistler, Lacy Stoltz investigated a corrupt judge who was taking millions in bribes from a crime syndicate. She put the criminals away, but only after being attacked and nearly killed. Three years later, and approaching 40, she is tired of her work for the Florida Board on Judicial Conduct and ready for a change.
Then she meets a mysterious woman who is so frightened she uses a number of aliases. Jeri Crosby's father was murdered 20 years earlier in a case that remains unsolved and that has grown stone cold. But Jeri has a suspect whom she has become obsessed with and has stalked for two decades. Along the way, she has discovered other victims.
Download
https://rg.to/file/6d901351206a3deadd0181c68fd5c3e6/John_Grisham_-_The_Judge's_List.mp3.html