The History of Politics and Race in America, 1968-Present By Candis Watts Smith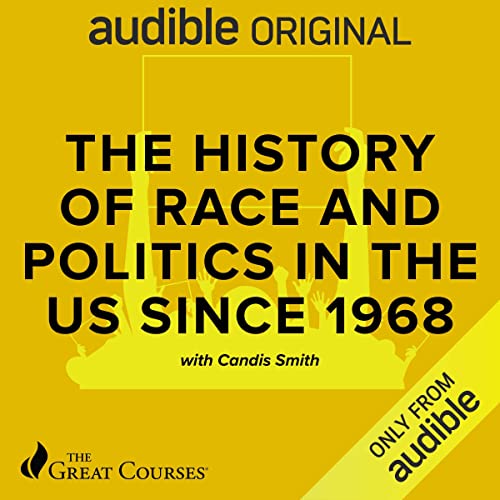 Narrated by: Candis Watts and The Great Courses
Length: 4 hrs and 58 mins
Release date: 02-03-22
The History of Politics and Race in America, 1968-Present AudioBook Summary
There's a pattern to racial politics in America: We move two steps forward, and then one – even two – steps back. Why is it so hard for us, as a society, to embrace the egalitarian and compassionate aspects of our nature?
The answer lies in the intricate links between race, politics, and policy that form what we've come to call "structural racism", a concept that has played out in various domains in the decades since 1968 – in housing and education, in wealth and debt, and in policing and immigration. Structural racism is more than just bigoted slurs and hateful violence; it's about the role American political institutions play in shaping racial categories and in overseeing the rules, laws, and customs that dictate the allocation of rights and privileges across them.
Candis Watts Smith of Duke University is an expert in how race has shaped our modern political landscape. In her Audible Original, The History of Race and Politics in the US Since 1968, she brings that same expertise to an illuminating 10-lecture look at racial progress (and stagnation) in America. With both sensitivity and intellectual honesty, she explains the power behind racial politics and how it shapes our gut reactions to people, neighborhoods, schools, protesters, and policy initiatives. She also reveals how structural racism connects everything from segregated housing and misallocated health care to unequal wages and poor access to quality education.
Download
https://nitro.download/view/903001E59E3D294/Candis_Watts_Smith_-_The_History_of_Politics_and_Race_in_America%2C_1968-Present.m4b
https://rg.to/file/a5db02ae58b82a6a2acca30f024d545f/Candis_Watts_Smith_-_The_History_of_Politics_and_Race_in_America,_1968-Present.m4b.html