The False Cause By Adam H. Domby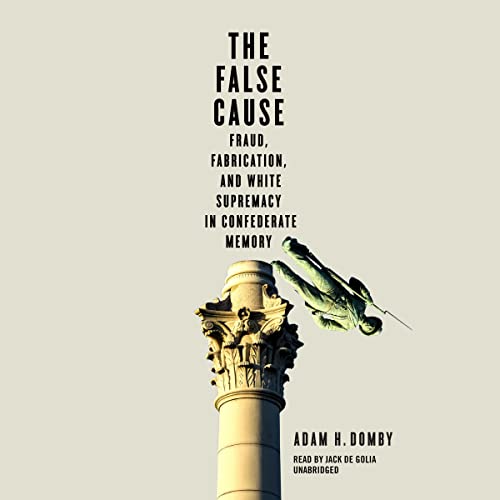 Narrated by: Jack de Golia
Length: 8 hrs and 58 mins
Release date: 05-10-22
The False Cause By Adam H. Domby AudioBook Summary
A fascinating, original, and highly enjoyable book that makes a meaningful contribution to understanding the Lost Cause and Civil War memory.
The Lost Cause ideology that emerged after the Civil War and flourished in the early 20th century in essence sought to recast a struggle to perpetuate slavery as a heroic defense of the South. As Adam Domby reveals here, this was not only an insidious goal, but it was founded on falsehoods.
The False Cause focuses on North Carolina to examine the role of lies and exaggeration in the creation of the Lost Cause narrative. In the process the book shows how these lies have long obscured the past and have been used to buttress white supremacy in ways that resonate to this day.
Domby explores how fabricated narratives about the war's cause, Reconstruction, and slavery—as expounded at monument dedications and political rallies—were crucial to Jim Crow. He questions the persistent myth of the Confederate army as one of history's greatest, revealing a convenient disregard of deserters, dissent, and Unionism, and exposes how pension fraud facilitated a myth of unwavering support of the Confederacy among nearly all White Southerners.
Domby shows how the dubious concept of "Black Confederates" was spun from a small number of elderly and indigent African American North Carolinians who got pensions by presenting themselves as "loyal slaves".
Download
https://rg.to/file/dba45e6b1a6e8cc64d7bb9ac585fadce/Adam_H.Domby-_The_False_Cause.m4b.html