The Dispatcher By John Scalzi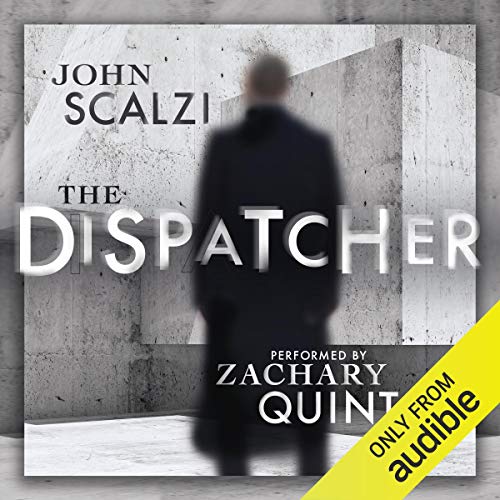 Narrated by: Zachary Quinto
Series: The Dispatcher, Book 1
Length: 2 hrs and 18 mins
Release date: 10-04-16
The Dispatcher AudioBook Summary
Earphones Award Winner (AudioFile Magazine)
Winner, 2017 APA Audie Awards – Original Work
From master storyteller and Hugo Award-winner John Scalzi comes this Audible Original novella, winner of the 2017 Audie Award for Best Original Work. Emmy-nominated actor Zachary Quinto—best known for his roles as the Nimoy-approved Spock in the Star Trek reboot and the menacing, power-stealing serial killer Sylar in Heroes—brings his well-earned sci-fi credentials and simmering intensity to this genre-bending thriller.
One day, not long from now, it becomes almost impossible to murder anyone—999 times out of a thousand, anyone who is intentionally killed comes back. How? We don't know. But it changes everything: war, crime, daily life.
Enter Tony Valdez, professional Dispatcher. True to their name, these licensed assassins are tasked with humanely disposing of people in death's crosshairs to offer them a second chance at avoiding the reaper. When a friend and fellow Dispatcher goes missing, Valdez is plunged into a web of intrigue both professional and personal.
File Size: 63.17 MB
Download
https://rapidgator.net/file/28cc81849f09e50b3bd2f96a4bbf84ab/John_Scalzi_-_The_Dispatcher.zip.html