The Colour of Magic By Terry Pratchett Narrated By Bill Nighy (2022 Edition)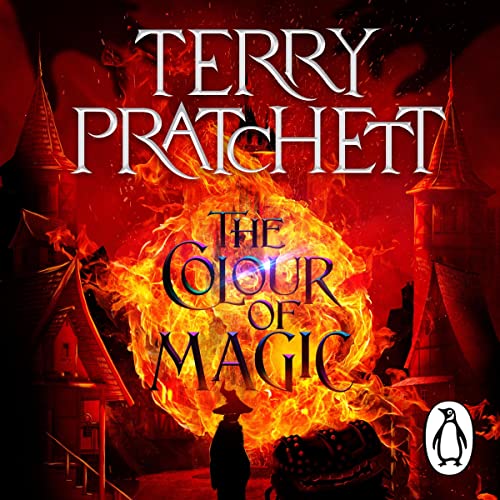 Narrated by: Colin Morgan, Peter Serafinowicz, Bill Nighy
Series: Discworld: Rincewind, Book 1, Discworld, Book 1
Length: 7 hrs and 58 mins
Release date: 07-07-22
The Colour of Magic By Terry Pratchett AudioBook Summary
The audiobook of The Colour of Magic is read by Colin Morgan (Merlin; Testament of Youth; Belfast). BAFTA and Golden Globe award-winning actor Bill Nighy (Love Actually; Pirates of the Caribbean; Harry Potter and the Deathly Hallows) reads the footnotes, and Peter Serafinowicz (Star Wars: Episode I – The Phantom Menace; Shaun of the Dead) stars as the voice of Death. Featuring a new theme tune composed by James Hannigan.
'It was octarine, the colour of magic. It was alive and glowing and vibrant and it was the undisputed pigment of the imagination….'
Somewhere between thought and reality exists the Discworld, a magical world not totally unlike our own. Except for the fact that it travels through space on the shoulders of four giant elephants who in turn stand on the shell of an astronomically huge star turtle, of course.
Rincewind is the world's worst wizard who has just been handed a very important job: to look after the world's first tourist, upon whose survival rests the peace and prosperity of the land. Unfortunately, their journey across the Disc includes facing robbers, monsters, mercenaries, and Death himself.
Download
https://rg.to/file/8c6fdc3e0d212848ee894cfda16a4b48/Terry_Pratchett_-_The_Colour_of_Magic.zip.html