The Art of Power By Mitch Horowitz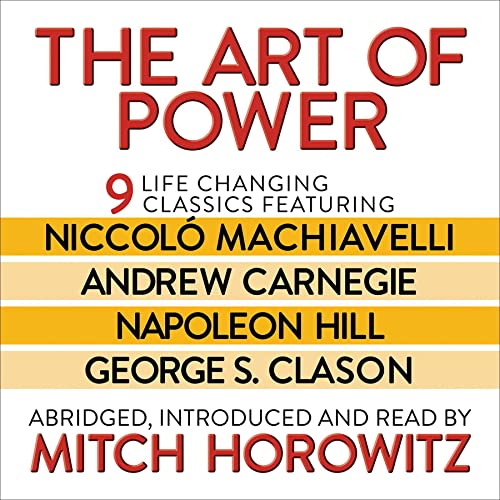 Narrated by: Mitch Horowitz
Length: 13 hrs and 25 mins
Release date: 06-28-22
The Art of Power By Mitch Horowitz AudioBook Summary
The Art of Power presents 9 life-changing lessons from timeless classics abridged and introduced by PEN Award-winning historian and New Thought scholar Mitch Horowitz.
The Prince by Niccolò Machiavelli Find immortal lessons in this, history's greatest guide to leadership and power.
The Gospel of Wealth by Andrew Carnegie The definitive classic on how wealth is won—and rightly used.
The Magic Ladder to Success by Napoleon Hill Here is the ladder to your dreams—take the first step!
The Master Key to Riches by Napoleon Hill Within you is a master key that solves every problem and leads to Incredible achievement.
The Million Dollar Secret Hidden in Your Mind by Anthony Norvell Simple but profound secrets to self-mastery, a magnetic personality, and attaining your dreams
Power & Wealth by Ralph Waldo Emerson Classic meditations on attaining power and money through self-directed living and empowerment.
The Richest Man in Babylon by George S. Clason This guide to financial success will revolutionize your personal finances and earning ability and show you how to make money work for you.
Think Your Way to Wealth by Napoleon Hill Experience the life-changing insights of two masters of money when Napoleon Hill met Andrew Carnegie and learned the importance of studying the principles of wealth found in the lives of high achievers.
The Magic Story by Frederick Van Rensselaer Dey Discover the mysterious "You" who cannot fail in one of the most intriguing and powerful works of inspiration ever written.
Download
https://rg.to/file/9d1b118761d704cebeb4b951f722b9c9/Mitch_Horowitz_-_The_Art_of_Power.zip.html