The Age of Resilience By Jeremy Rifkin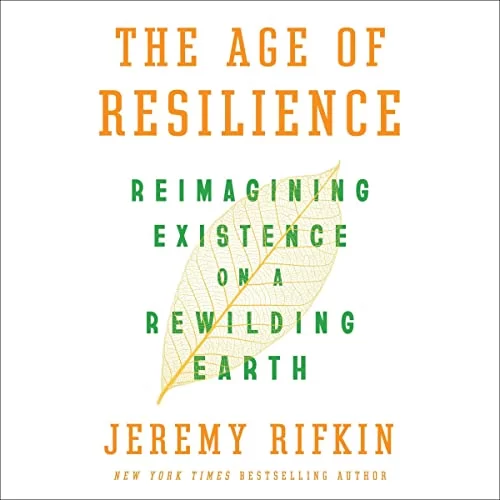 Narrated by: Adam Barr
Length: 12 hrs and 11 mins
Release date: 11-01-22
The Age of Resilience By Jeremy Rifkin AudioBook Summary
A sweeping new interpretation of the history of civilization and a transformative vision of how our species will thrive on an unpredictable Earth.
The viruses keep coming, the climate is warming, and the Earth is rewilding. Our human family has no playbook to address the mayhem unfolding around us. If there is a change to reckon with, argues the renowned economic and social theorist Jeremy Rifkin, it's that we are beginning to realize that the human race never had dominion over the Earth and that nature is far more formidable than we thought, while our species seems much smaller and less significant in the bigger picture of life on Earth, undermining our long-cherished worldview. The Age of Progress, once considered sacrosanct, is on a deathwatch while a powerful new narrative, the Age of Resilience, is ascending.
In The Age of Resilience, Rifkin takes us on a new journey beginning with how we reconceptualize time and navigate space. During the Age of Progress, efficiency was the gold standard for organizing time, locking our species into the quest to optimize the expropriation, commodification, and consumption of the Earth's bounty, at ever-greater speeds and in ever-shrinking time intervals, with the objective of increasing the opulence of human society, but at the expense of the depletion of nature. Space, observes Rifkin, became synonymous with passive natural resources, while a principal role of government and the economy was to manage nature as property. This long adhered to temporal-spatial orientation, writes Rifkin, has taken humanity to the commanding heights as the dominant species on Earth and to the ruin of the natural world.
In the emerging era, says Rifkin, efficiency is giving way to adaptivity as the all-encompassing temporal value while space is perceived as animated, self-organizing, and fluid. A younger generation, in turn, is pivoting from growth to flourishing, finance capital to ecological capital, productivity to regenerativity, Gross Domestic Product to Quality of Life Indicators, hyper-consumption to eco-stewardship, globalization to glocalization, geopolitics to biosphere politics, nation-state sovereignty to bioregional governance, and representative democracy to citizen assemblies and distributed peerocracy.
Download
https://rg.to/file/ad503fb122df27327e55be3cc6f40d25/Jeremy_Rifkin_-_The_Age_of_Resilience.zip.html