Swallow By Piper Scott, Virginia Kelly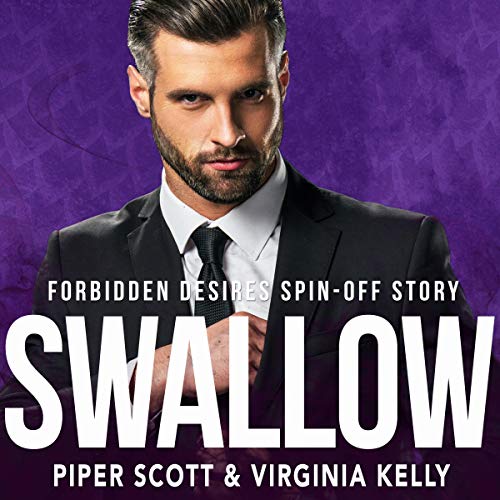 Narrated by: Michael Ferraiuolo
Series: Forbidden Desires
Length: 3 hrs and 43 mins
Release date: 01-02-20
Swallow AudioBook Summary
Grimbold Drake, influential patriarch of the Drake family, revels in his solitary life of order – a life which is thrown into chaos when his son pays him an unexpected visit, bringing with him a broken but gorgeous young man more than a millennium Grimbold's junior. A man Grimbold instantly finds himself yearning to fix, protect, and claim.
Meek, subservient, and eager to please, Wally Brand doesn't doubt the tales he's been told of the cruel and deceitful Amethyst clan. So, when he's forcibly taken from his home and entrusted to Grimbold Drake – the most powerful Amethyst dragon of all – he knows he won't be long for this world.
Only, there's a gleam in Grimbold's eyes when he looks Wally's way and a tenderness to his touch that Wally can't understand. All he knows is one thing: Whether Grimbold means him harm or not, if he can be good to his dragon captor, maybe…just maybe, he'll get out of this mess alive.
Swallow is a steamy omegaverse mpreg-ish romance set following the events of the Forbidden Desires series. It contains a broken young man who badly needs love, a curmudgeonly dragon with a heart of gold, new nicknames, familiar faces, and the sweetest dog known to dragonkind.
File Size: 203.57 MB
Download
https://rg.to/file/1e692fa6419b0eafde67c1356b4f4abd/Piper_Scott,Virginia_Kelly-_Swallow.m4b.html