Still I Rise By Marlene Wagman-Geller, Laurel Corona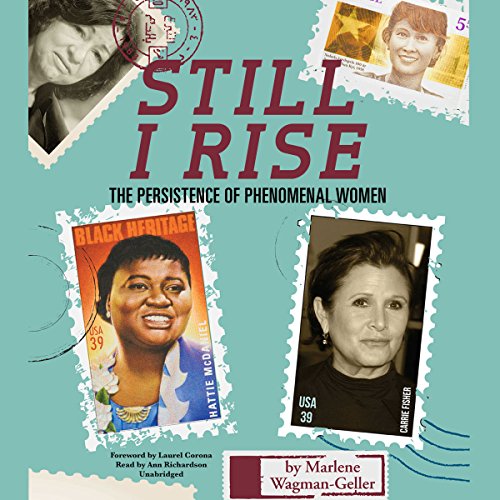 Narrated by: Ann Richardson
Length: 7 hrs
Release date: 04-10-18
Still I Rise AudioBook Summary
Still I Rise takes its title from a work by Maya Angelou, and it resonates with the same spirit of an unconquerable soul, a woman who is captain of her fate. This book embodies the strength of character of the inspiring women profiled within.
Each chapter outlines the fall and rise of great women heroes who smashed all obstacles rather than let all obstacles smash them. Still I Rise offers hope to those undergoing their own Sisyphean struggles. Intrepid women heroes are the antithesis of the traditional damsels in distress; rather than waiting for the prince, they took salvation into their own hands.
Women leaders in history celebrated in this book include Hattie McDaniel, the first African American to win an Academy Award; Aung San Suu Kyi, Burma's first lady of freedom; J. K. Rowling, author of the Harry Potter series; Tammy Duckworth, war hero and United States senator; Fannie Lou Hamer, American voting rights activist; Sonia Sotomayor, first Hispanic Supreme Court justice; Carrie Fisher, actress and activist; Lois Wilson, founder of Al-Anon; Joan Rivers, actress and larger-than-life personality; Mildred Loving, who was persecuted for her interracial marriage; Maya Angelou, poet and civil rights activist; and many more!
File Size:
173.51 MB
Download
https://rg.to/file/a90d0331a9b1848ba1a4207634219791/Marlene_Wagman-Geller,Laurel_Corona-_Still_I_Rise.zip.html