Stage (Not Age) By Susan Wilner Golden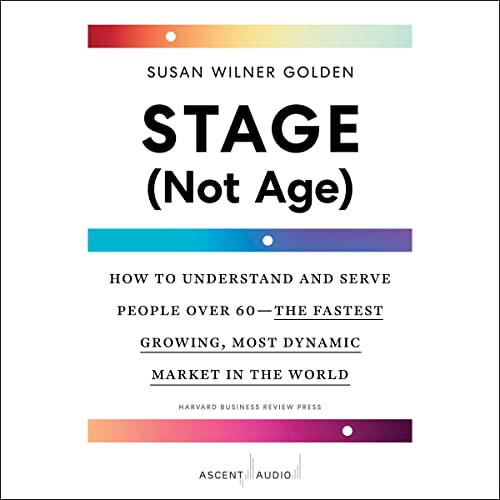 Narrated by: Petrea Burchard
Length: 5 hrs and 59 mins
Release date: 06-14-22
Stage (Not Age) By Susan Wilner Golden AudioBook Summary
The $21 trillion opportunity that can only be unlocked if you rethink everything you think you know about people over sixty.
In the time it takes you to read this, another twenty Americans will turn sixty-five. Ten thousand people a day are crossing that threshold, and that number will continue to grow. In fifteen years, Americans aged sixty-five and over will outnumber those under age eighteen. This change is coming: Nearly everywhere in the world, people over sixty will become the dominant population.
Demographers tend to pose the new longevity as a crisis we are not prepared for. And there are serious issues to address in order to serve this population, and society as a whole.
But longevity also presents an opportunity for which companies need to develop a strategy. Estimates put the global market for this demographic at $21 trillion across every industry you can think of: entertainment, travel, education, healthcare, housing, transportation, consumer goods and services, product design, and financial services will all benefit if they can figure out a way to serve this market. 
Download
https://rg.to/file/b0d538b92ac7a751aa9b7e16dbdbca3a/Susan_Wilner_Golden_-_Stage_Not_Age.zip.html