Silent Spring Revolution By Douglas Brinkley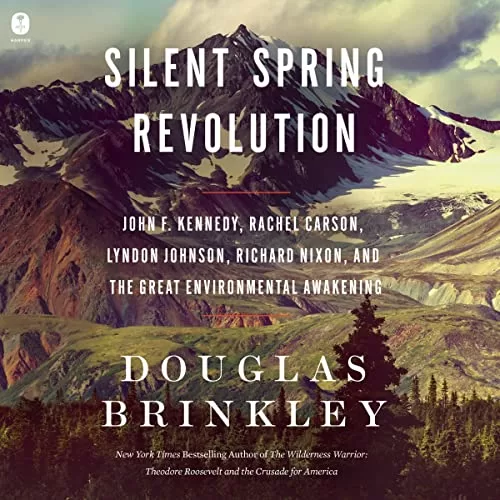 Narrated by: Stephen Graybill
Length: 29 hrs and 24 mins
Release date: 11-15-22
Silent Spring Revolution By Douglas Brinkley AudioBook Summary
New York Times bestselling author and acclaimed presidential historian Douglas Brinkley chronicles the rise of environmental activism during the Long Sixties (1960-1973), telling the story of an indomitable generation that saved the natural world under the leadership of John F. Kennedy, Lyndon Johnson, and Richard Nixon.
With the detonation of the Trinity explosion in the New Mexico desert in 1945, the United States took control of Earth's destiny for the first time. After the Truman administration dropped atomic bombs on Japan to end World War II, a grim new epoch had arrived. During the early Cold War years, the federal government routinely detonated nuclear devices in the Nevada desert and the Marshall Islands. Not only was nuclear fallout a public health menace, but entire ecosystems were contaminated with radioactive materials. During the 1950s, an unprecedented postwar economic boom took hold, with America becoming the world's leading hyperindustrial and military giant. But with this historic prosperity came a heavy cost: oceans began to die, wilderness vanished, the insecticide DDT poisoned ecosystems, wildlife perished, and chronic smog blighted major cities.
In Silent Spring Revolution, Douglas Brinkley pays tribute to those who combated the mauling of the natural world in the Long Sixties: Rachel Carson (a marine biologist and author), David Brower (director of the Sierra Club), Barry Commoner (an environmental justice advocate), Coretta Scott King (an antinuclear activist), Stewart Udall (the secretary of the interior), William O. Douglas (Supreme Court justice), Cesar Chavez (a labor organizer), and other crusaders are profiled with verve and insight.
Download
https://rg.to/file/0adcb63c59804bfce11245de87c5abb3/Douglas_Brinkley_-_Silent_Spring_Revolution.m4b.html