Self-Compassion for Dummies By Steven Hickman PsyD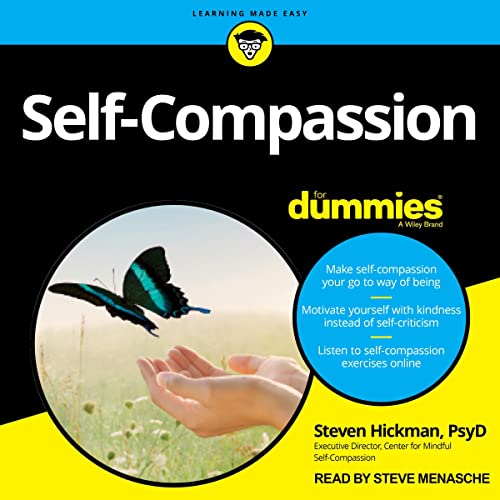 Narrated by: Steve Menasche
Length: 17 hrs and 59 mins
Release date: 02-22-22
Self-Compassion for Dummies AudioBook Summary
Being kind to yourself might sound simple, but self-compassion can change your life dramatically. Self-Compassion for Dummies will help you discover self-critical thoughts and self-defeating behaviors that are holding you back from fulfilling your potential and explore how you can learn to work around these things to find your way to more joy and satisfaction. When you learn to love and appreciate yourself completely, you free yourself up to achieve great things. This book will show you how!
You'll learn how to give yourself a taste of your own medicine by turning understanding, acceptance, and love – stuff you already do for others all the time – inward.
Discover the research behind self-compassion and learn how it can help you face your insecurities and life a fuller life
Cultivate feelings of self-worth, acceptance, and love for someone who really deserves it – you!
Explore the potential of self-compassion to address self-criticism, perfectionism, shame, self-doubt, anxiety, and anger
Now more than ever, we need to offer support and love to ourselves. Thankfully, this is a skill we can all develop with a little help from Self-Compassion for Dummies.
Download
https://rg.to/file/423517b24669817f8e58b4842e2f7c1d/Steven_Hickman_PsyD_-_Self-Compassion_For_Dummies.zip.html