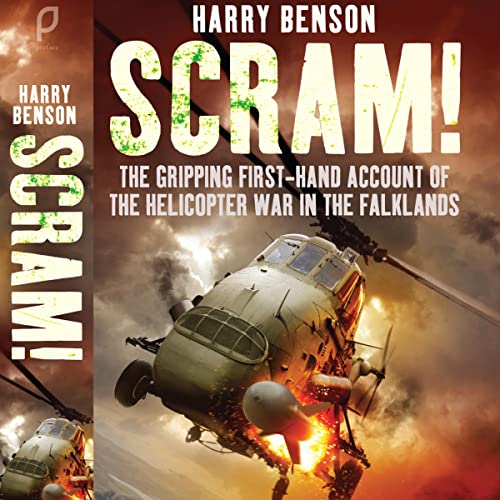 Narrated by: Johnnie Benson
Length: 10 hrs and 28 mins
Release date: 04-11-22
Scram! AudioBook Summary
In April 1982, Harry Benson was a 21-year-old Royal Navy commando helicopter pilot fresh out of training and one of the youngest helicopter pilots to serve in the Falklands War. These pilots, nicknamed "junglies", flew most of the land-based missions in the Falklands in their Sea King and Wessex helicopters. Much of what happened in the war—the politics, task force ships, Sea Harriers, landings, Paras, and Marines—is well-known and documented. But almost nothing is known of the young commando helicopter pilots and aircrewmen who made it all happen on land and sea. This is their "Boys Own" story, told for the very first time.
Harry Benson has interviewed 40 of his former colleagues for the audiobook, creating a tale of skill, initiative, resourcefulness, humor, luck, and adventure. This is a fast-paced, meticulously researched, and compelling account written by someone who was there, in the cockpit of a Wessex helicopter. None of these pilots have spoken before about:
The two helicopter crashes and eventual rescue following a failed SAS mission high up on an in hospitable glacier in South Georgia
The harrowing story of the Exocet strike that sunk the transport ship Atlantic Conveyor
The daring missile raid on the Argentine high command in Port Stanley
The constant mortar fire faced while supporting troops and evacuating casualties
The hair-raising head-on attacks by Argentine jets on British helicopters
The extraordinary courage shown during the evacuation of the bombed landing ship Sir Galahad
If you liked Apache, Vulcan 607, and Chickenhawk, you'll love Scram! The word "scram" was coined by Falklands helicopter pilots to warn other "junglies" to go to ground or risk being shot down as Argentinean jets blasted through "bomb alley". The term has never been used before or since.
Download
https://rg.to/file/750cfe078502ca4b88356d0764824e7f/Harry_Benson_-_Scram!.zip.html