Satisfaction Guaranteed By Micheline Maynard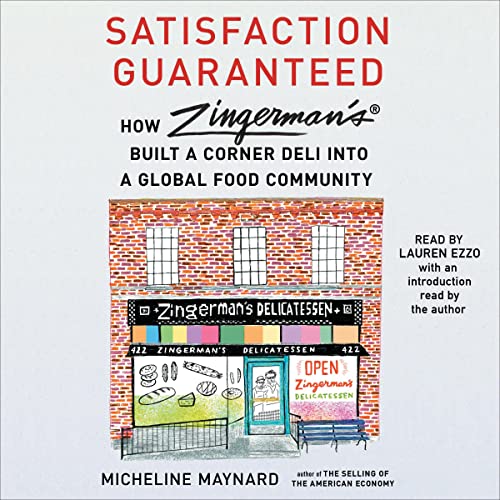 Narrated by: Lauren Ezzo
Length: 7 hrs and 2 mins
Release date: 02-22-22
Satisfaction Guaranteed AudioBook Summary
From an accomplished national journalist, a lively look at the inception, growth, future, and unique management style of Zingerman's – a beloved, $70 million-dollar Michigan-based specialty food store with global reach.
Certain businesses are legendary, exerting immense influence in their field. Zingerman's in Ann Arbor, Michigan, is one of those places. Over the years, the flagship deli has expanded into a community of more than a dozen businesses, including a wildly successful mail order operation, restaurants, bakery, coffee roastery, creamery, candy maker, and events space – transforming Ann Arbor into a destination for food lovers.
Founded in 1982 by Paul Saginaw and Ari Weinzweig, Zingerman's philosophy of good food, excellent service, and sound finances has turned it into a company whose reach spans all corners of the gourmet food world.​ Famous for its generous deli sandwiches, fresh bread, and flavorful coffee – all locally produced – Zingerman's is also widely celebrated for its superb customer service and employee equity. The culture is one of respect and innovation, while maintaining very high standards. Every employee has access to the financial records, everyone has a voice, and everyone is heard. It has legions of enthusiastic customers, fans across the food world, and business principles and a work ethic that have been admired, analyzed, and copied. All that is revealed here, in Micheline Maynard's Satisfaction Guaranteed.
Download
https://rg.to/file/da6282dec6f934461e66cede264b87d6/Micheline_Maynard_-_Satisfaction_Guaranteed.mp3.html