Run for Something By Amanda Litman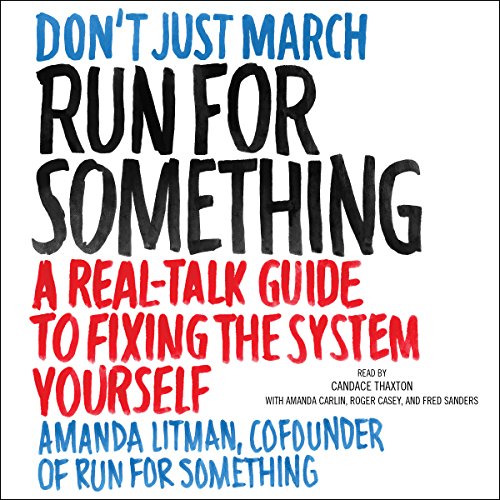 Narrated by: Candace Thaxton, Roger Casey, Fred Sanders, Amanda Carlin
Length: 7 hrs and 1 min
Release date: 10-03-17
Run for Something AudioBook Summary
From the email marketing director of Hillary Clinton's presidential campaign and the cofounder of Run for Something comes an essential and inspiring guide that encourages and educates young progressives to run for local office, complete with contributions from elected officials and political operatives.
You've been depressed since the night of November 8, 2016. You wore black to work the next morning. You berated yourself for your complacency during the Obama years. You ranted on Twitter. You deleted Twitter. You sent emails to your friends saying, "How can we get more involved?" You listened to Pod Save America. You knitted a pussyhat. You showed up to the Women's March on Washington. You protested Donald Trump's executive orders. You called your congressman. You called other people's congressmen. You set up monthly donations to Planned Parenthood and the ACLU. You reactivated Twitter (begrudgingly).
Here's what you do next: Run for something.
To be specific: Run for local office and become the change you want to see in the world. Forget about Congress. Forget about the Senate. Focus on the offices that get the real sh*t done: state legislatures, city councils, school boards, and mayors.
It doesn't matter if you're not a white man over 60 with an Ivy League law degree. (In fact, it's better if you're not!)
It doesn't matter if you don't understand the first thing about running for office, or never even imagined you would. That's what this book is for.
Amanda Litman, experienced in hard-fought state and national election campaigns, is here to give you guidance as well as wisdom and insight from elected officials and political operatives she interviewed for this book.
File Size: 179.45 MB
Download
https://rapidgator.net/file/b86d025c67c040a23672fa10ebe61725/Amanda_Litman_-_Run_for_Something.zip.html