Real Zen for Real Life By Bret W. Davis, The Great Courses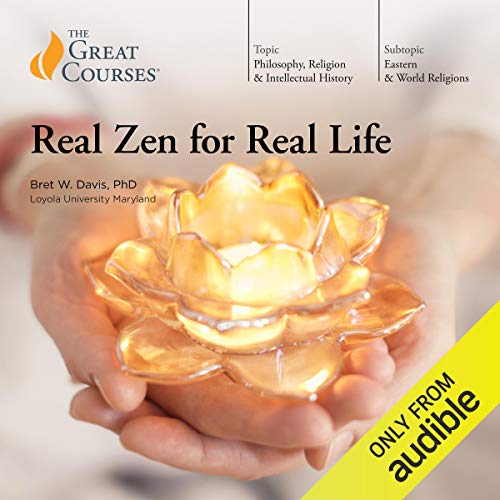 Narrated by: Professor Bret W. Davis
Length: 13 hrs and 51 mins
Release date: 27-11-20
Real Zen for Real Life AudioBook Summary
What do you think of when you hear the word Zen? Many Westerners may associate Zen with the counterculture of the 1960s and '70s, while others may associate it with today's hipster culture. Many use the word to simply mean laid-back and relaxed.
But what does Zen really mean? Zen is a school of Buddhism and a rigorous spiritual discipline. To understand what Zen is really about, it is vital not only to study its profound philosophical teachings, but also to engage in the practice of Zen. The word Zen means meditation, and Zen meditation is a practice of "clearing the heart-mind". For Zen, an open mind entails an open heart, and this open heart-mind is the source of both creativity and compassion.
Professor Bret W. Davis, professor of philosophy and the T. J. Higgins, SJ, chair in philosophy at Loyola University Maryland, has created a highly accessible introduction to the philosophical concept of Zen with Real Zen for Real Life. Bringing the academic purview of a philosophy professor, the view of an academic scholar, and the spiritual experience of a practitioner and teacher of Zen, this course reflects the push and pull between Eastern and Western traditions and cultures with the goal of making the study and practice of Zen more accessible and engaging to all viewers.
Over the course of 24 lessons, including the eight meditation checkups within lessons, you will learn both what Zen has traditionally meant for East Asians and what it can mean for contemporary Westerners. Prepare to be challenged as Professor Davis asks you to set aside your preconceptions in order to open yourselves to what Zen masters who lived in the past and in distant lands have to teach you. You will especially need to be open to the possibility that Zen may be able to teach you about yourself. This course aims to challenge and inspire you, both intellectually and personally.
File Size: 571.72 MB
Download
https://rg.to/file/359a5ac32534fc7af313a79f9c17eaf1/Bret_W.Davis,_The_Great_Courses-_Real_Zen_for_Real_Life.zip.html