Raising Lazarus By Beth Macy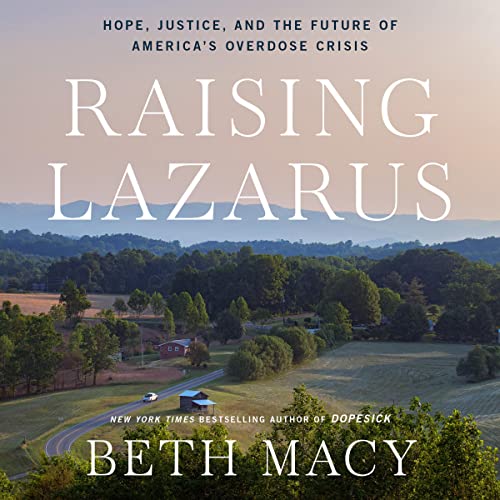 Narrated by: Beth Macy
Length: 10 hrs and 31 mins
Release date: 08-16-22
Raising Lazarus By Beth Macy AudioBook Summary
One of Lit Hub's Most Anticipated Books of 2022
Author of Dopesick, the New York Times bestselling book that inspired the Hulu limited series
New York Times bestselling author of Dopesick and Factory Man
In her gripping, necessary, and deeply humane follow-up to the New York Times bestseller Dopesick, journalist Beth Macy brings us to the next frontier of the opioid crisis, telling the story of the everyday heroes fighting to stem the tide of drug overdose in communities that are too often left to fend for themselves, and of the activists and relatives of the dead who are still struggling for accountability in America's courts.
Nearly a decade into the second wave of America's overdose crisis, pharmaceutical companies have yet to answer for the harms they created. As pending court battles against opioid makers, distributors, and retailers drag on, addiction rates have soared to record-breaking levels during the COVID pandemic, illustrating the critical need for leadership, urgency, and change. Meanwhile, there is scant consensus between law enforcement and medical leaders, nor an understanding of how to truly scale the programs that are out there, working at the ragged edge of capacity and actually saving lives.
Distilling this massive, unprecedented national health crisis down to its character-driven emotional core as only she can, Beth Macy takes us into the country's hardest hit places to witness the devastating personal costs that one-third of America's families are now being forced to shoulder. Here we meet the ordinary people fighting for the least of us with the fewest resources, from harm reductionists risking arrest to bring lifesaving care to the homeless and addicted to the activists and bereaved families pushing to hold Purdue and the Sackler family accountable. These heroes come from all walks of life; what they have in common is an up-close and personal understanding of addiction that refuses to stigmatize—and therefore abandon—people who use drugs, as big pharma execs and many politicians are all too ready to do.
Download
https://rg.to/file/d5be4b5816cbfade5ff38565b6394705/Beth_Macy_-_Raising_Lazarus.m4b.html