Putin's Playbook By Rebekah Koffler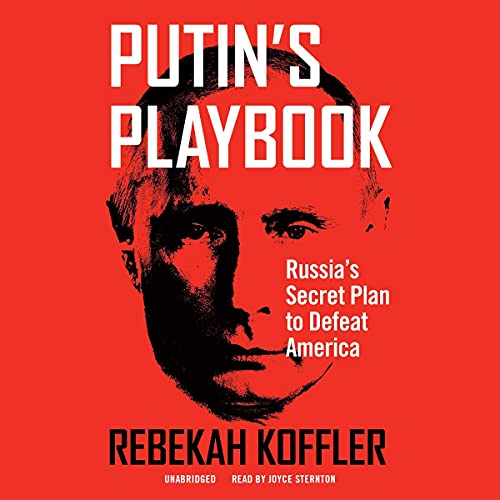 Narrated by: Joyce Sternton
Length: 13 hrs and 9 mins
Release date: 07-27-21
Putin's Playbook AudioBook Summary
Politicians and pundits on both sides of the aisle have accused Russia of interfering with our elections and our intelligence agencies. But the war Russia is waging against America is very different from anything you have heard in the press, as Russian-born US intelligence expert Rebekah Koffler reveals.
In Putin's Playbook, Koffler details how Vladimir Putin is orchestrating a wide-ranging, multifaceted campaign to retake his country's role as a superpower and to defeat America in the process. Koffler explains the Putin-ordered five-point master plan to defeat America, which includes spies, satellite killers, bombers, lasers, undersea cable cutters, cyber trolls, nuclear missiles, assassinations, and special techniques that Russia uses to distort Americans' perceptions of reality. Koffler also reveals how Moscow plans to turn our strengths – such as our open, democratic society, the technology that pervades every sphere of our lives, and our aversion to war casualties – into vulnerabilities.
Koffler explores the military components of Russia's strategy, including its powerful arsenal of conventional and nuclear weapons and the advanced new weaponry unveiled the day after the 2018 Trump-Putin Helsinki summit. She details why Moscow views America's dependency on satellite technology for military operations as our country's "Achilles' heel" and alerts listeners to the newly erected National Center for State Defense, a wartime structure. Finally, there is a discussion of why Moscow violated the US-Russian Intermediate-range Nuclear Forces Treaty (INF). The picture is clear, warns Koffler: Putin is mobilizing his country for the "inevitable" war.
Download
https://rg.to/file/e37cb045c3ef7c7d05a8482024cb908f/Rebekah_Koffler_-_Putins_Playbook.mp3.html