Prophecy and Modern Times By W. Cleon Skousen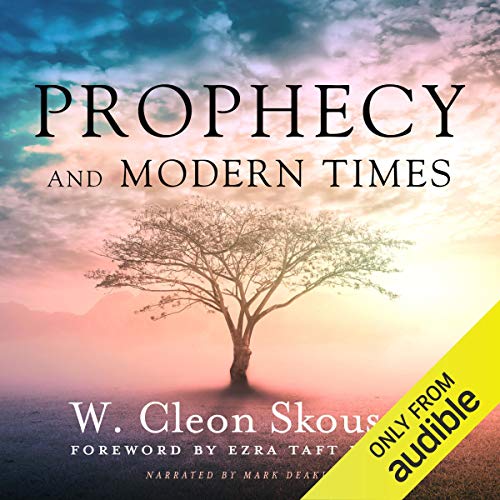 Narrated by: Mark Deakins
Length: 2 hrs and 58 mins
Release date: 12-05-14
Prophecy and Modern Times AudioBook Summary
Have you ever wondered what the ancient prophets had to say about these modern times? Find the answer in Prophecy and Modern Times, a brief but powerful exploration into 6,000 years of prophecies about these latter days. All the ancient warnings and promises are beautifully distilled, organized, and explained for clear understanding and quick application by this generation.
As President Ezra Taft Benson said in the foreword, "Every person interested in present and future events in this war-torn world will profit from a careful perusal of these pages."
Prophecy and Modern Times will help you interpret what ancient prophecies mean for your own life, and for the modern world. These prophets foresaw many of the complexities of the modern era, the Middle East, America, the rise of enormous economic and military powers, the stealthy corruption of nations and of personal lives, and how the second coming of Jesus Christ will finally begin a long-awaited era of peace.
Gary D. Goodwin, of the Association for Mormon Letters, said "Skousen reveals his brilliance in his organization of such a monumentally complicated task. He suggests how to interpret prophecy, tells us its purpose and our responsibility to understand it. Skousen is masterful!"
File Size: 81.75 MB
Download
https://rg.to/file/e5152556c4952c96be0d6fea9900a4c3/W.Cleon_Skousen-_Prophecy_and_Modern_Times.mp3.html