Power over People By Dennis Dalton, The Great Courses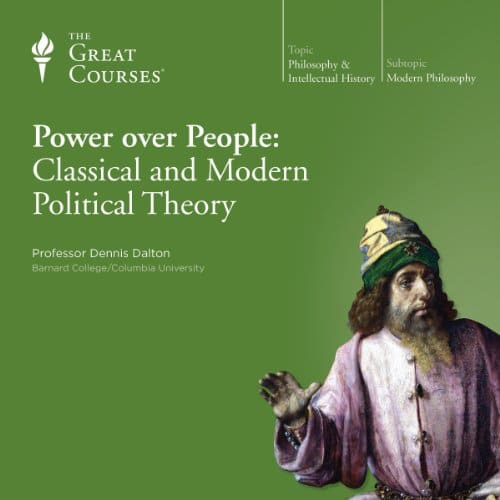 Narrated by: Dennis Dalton
Series: The Great Courses: Modern Philosophy
Length: 12 hrs and 19 mins
Release date: 07-08-13
Power over People AudioBook Summary
What is the connection between individual freedom and social and political authority? Are human beings fundamentally equal or unequal? In 16 in-depth lectures, Professor Dalton puts the key theories of power formulated by several of history's greatest minds within your reach.
These lectures trace two distinct schools of political theory, idealism and realism, from their roots in ancient India and Greece through history and, ultimately, to their impact on the 20th century – via the lives and ideas of two charismatic, yet utterly disparate leaders: Adolph Hitler and Mahatma Gandhi. The issues Professor Dalton addresses in these lectures – and in Western political theory generally – fall into three sets of fundamental questions you'll get to unpack. The first set involves the essential characteristics of human nature and the good society. The second focuses on the intricate relationship between the individual and society. And the final set of questions involves theories about change.
Through these lectures and their historical case studies, you'll be able to identify the fundamental questions and concerns that shape classical and modern political theory:
Describe the influence of one's understanding of human nature upon one's vision of the good society.
Compare and contrast the views of theorists regarding the purpose of the state, the relationship between politics and ethics, and the qualifications for exercising political power.
Discuss views of leading political theorists regarding the meaning of freedom, the sources of legitimate political authority, and the obligations of individuals to the state or society, and more.
File Size: 402.8 MB
Download
https://rg.to/file/1a24749949a6988a99005146125c0bd4/Dennis_Dalton,The_Great_Courses-__Power_over_People.zip.html