Operation Dragoon By Charles River Editors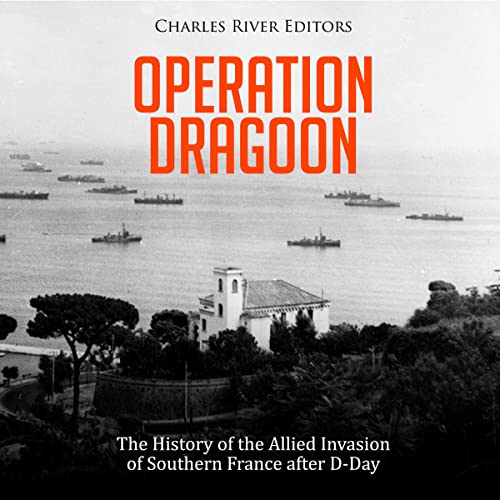 Narrated by: Colin Fluxman
Length: 1 hr and 34 mins
Release date: 12-01-21
Operation Dragoon AudioBook Summary
By the end of D-Day, the Allies had managed to successfully land 170,000 men, including over 75,000 on the British and Canadian beaches, 57,000 on the American beaches, and over 24,000 airborne troops. Thanks to Allied deception, the German army had failed to react to prevent the Allies from making the most of their landings. Just one division, the Hitlerjugend, would arrive the following day. Despite a fearsome and bloody day, the majority of the Allied forces had held their nerve, and most importantly, achieved their objectives. This ensured Operation Overlord was ultimately successful, and victory in Europe would be achieved within less than a year.
Churchill was not overstating the achievements of the invasion when he described the plan as "the greatest thing we have ever attempted". The greatest armada the world had ever seen had landed 170,000 soldiers on the heavily defended beaches of Normandy in just 24 hours. More remarkable was the fact that the operation was a success on every major level. Deception, tactical surprise, and overwhelming force had contributed to the establishment of an adequate beachhead. Confusion and dissent had stopped the Germans massing for any great counterattack. The Atlantic Wall which Hitler had placed so much faith in had been breached, and the race to Paris was on.
While D-Day is one of the most famous events of the war, it is widely overlooked that about two months after the landings in Normandy, there was a second Allied landing in France. On August 15, 1944, a combined US-French force landed in southern France on the beaches of the Côte d'Azur as part of Operation Dragoon. In just over four weeks of fighting, the Allied landing led to the liberation of most of southern France and to one of the most audacious and successful Allied operations of World War II. 
Download
https://rg.to/file/4d2b949bdca910a3e327e82367150e0a/Charles_River_Editors_-_Operation_Dragoon.m4b.html