On the Natural History of Destruction By W. G. Sebald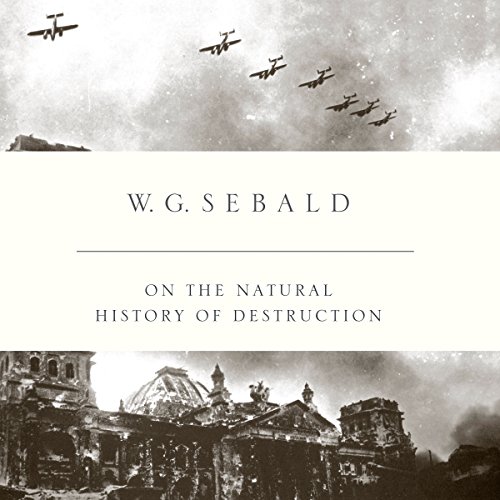 Narrated by: Simon Vance
Length: 4 hrs and 30 mins
Release date: 02-06-18
On the Natural History of Destruction AudioBook Summary
W.G. Sebald's military classic, On the Natural History of Destruction, will now be available for the first time in audio!
On the Natural History of Destruction is W.G. Sebald's harrowing and precise investigation of one of the least examined "silences" of our time. In it, the acclaimed novelist examines the devastation of German cities by Allied bombardment, and the reasons for the astonishing absence of this unprecedented trauma from German history and culture.
This void in history is in part a repression of things – such as the death by fire of the city of Hamburg at the hands of the RAF – too terrible to bear. But rather than record the crises about them, writers sought to retrospectively justify their actions under the Nazis. For Sebald, this is an example of deliberate cultural amnesia; his analysis of its effects in and outside Germany has already provoked angry and painful debate.
Sebald's incomparable novels are rooted in meticulous observation; his essays are novelistic. They include his childhood recollections of the war that spurred his horror at the collective amnesia around him. There are moments of black humour and, throughout, the unmatched sensitivity of Sebald's intelligence. This book is a vital study of suffering and forgetting, of the morality hidden in artistic decisions, and of both compromised and genuine heroics.
File Size: 120.21 MB
Download
https://rg.to/file/52de18263f4e0a9dbd5a0f009d97f87e/W.G._Sebald_-_On_The_Natural_History_of_Destruction.zip.html