Off with My Head By Stassi Schroeder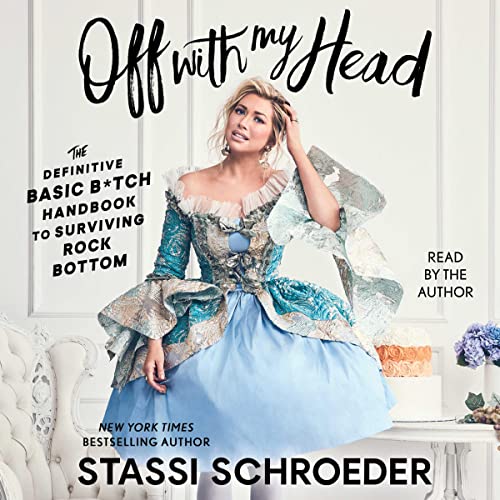 Narrated by: Stassi Schroeder
Length: 7 hrs and 14 mins
Release date: 04-26-22
Off with My Head AudioBook Summary
The New York Times best-selling author of Next Level Basic and fan-favorite alumna of Bravo's Vanderpump Rules returns with the definitive Basic Bitch handbook for surviving your rock-bottom moments.
The year 2020 was going to be the best year of Stassi's life. Besides getting engaged and feeling like she was on top of the world career-wise, she bought her first house and was planning her dream Italian wedding. The future showed so much freaking promise—until it all went to hell. Stassi may not be perfect—she may have made some (major) mistakes—but she does feel like she has some insight (and plenty of hilarious tales) about getting knocked up, called out, and learning from what went wrong.
Through stories, confessions, and plenty of self-reflection and self-deprecation, this new book goes behind the scenes and addresses the experience of getting cancelled, getting that positive pregnancy test, and saying "I do" in the backyard instead of in Italy. Stassi won't hold back about her transformation from proud basic bitch to… proud basic bitch who has a deeper appreciation for what's really important in life: love, relationships, mutual respect, and, okay fine, an Aperol spritz and some showtunes when you need them most.
Download
https://rg.to/file/a0258c0804685c634bb0c8a1531588ee/Stassi_Schroeder_-_Off_With_My_Head.zip.html