Nest City By Beth Sanders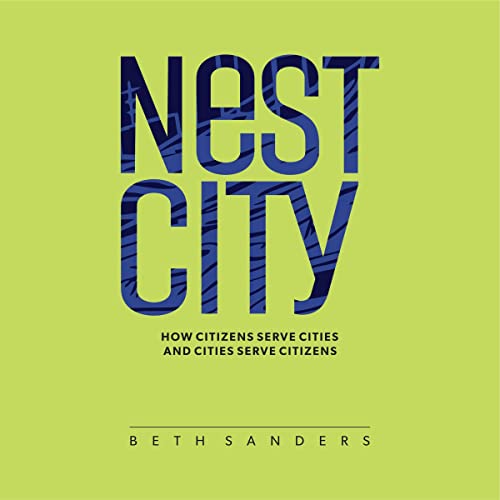 Narrated by: Beth Sanders
Length: 9 hrs and 46 mins
Release date: 12-01-21
Nest City AudioBook Summary
In Nest City, Beth Sanders argues that our linear ways of thinking about, organizing, and planning our cities do not meet the true nature of cities as complex and messy systems. There are no simple solutions to the challenges we face: Many citizens don't feel they belong, we don't agree on how to best move around, many don't have jobs or homes they can afford, we make running businesses challenging, and we are facing challenges with the climate crisis. At a time when understanding the relationship between our physical, economic, and social habitats is essential, Sanders sets forth an approach to work with the disruptions of our times.
Drawing on her experience as a city planner and a relationship-broker in the conflicts that surface in city life, Sanders offers several strategies to explore how citizens, public institutions, community organizations, and the business community can work together to improve our cities. She explores the evolutionary nature of our relationship with cities, and how the tension we experience in city life compels each of us to work to improve our cities. Our work is what regenerates our cities. The city habitats we make for ourselves are as good as we choose to make them. If they're not good enough, it's up to us to improve them.
The result is a book that articulates the importance of having a sense of direction, being willing as citizens and cities to learn along the way, and accepting the uncertainty and messiness of cities as opportunities to improve them – so they serve citizens well. Nest City will forever alter the way you look at your city, your local public institutions, and community organizations and businesses – and how you think about and contribute to your city.
Download
https://rg.to/file/8e03d19b1a63ced6812918d93af955fc/Beth_Sanders_-_Nest_City.zip.html