Murder Under Her Skin By Stephen Spotswood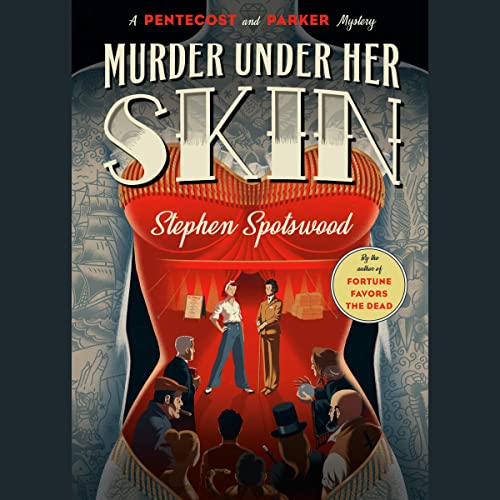 Narrated by: Kirsten Potter
Series: A Pentecost and Parker Mystery, Book 2
Length: 9 hrs and 40 mins
Release date: 12-07-21
Murder Under Her Skin AudioBook Summary
Rex Stout meets Agatha Christie with a fresh twist in the new Pentecost and Parker Mystery, a delightfully hard-boiled high-wire act starring two daring woman sleuths dead set on justice as they set out to solve a murder at a traveling circus.
Someone's put a blade in the back of the Amazing Tattooed Woman, and Willowjean "Will" Parker's former knife-throwing mentor has been stitched up for the crime. To uncover the truth, Will and her boss, world-famous Detective Lillian Pentecost, travel south to the circus where they find a snakepit of old grudges, small-town crime, and secrets worth killing for.
New York, 1946: The last time Will Parker let a case get personal, she walked away with a broken face, a bruised ego, and the solemn promise never again to let her heart get in the way of her job. But she called Hart and Halloway's Travelling Circus and Sideshow home for five years, and Ruby Donner, the circus's tattooed ingenue, was her friend. To make matters worse the prime suspect is Valentin Kalishenko, the man who taught Will everything she knows about putting a knife where it needs to go.
Download
https://rg.to/file/443db2ac9a44508fc46f8bdf30300e92/Stephen_Spotswood_-_Murder_Under_Her_Skin.zip.html