Murder Season | Robert Ellis | AudioBook Free Download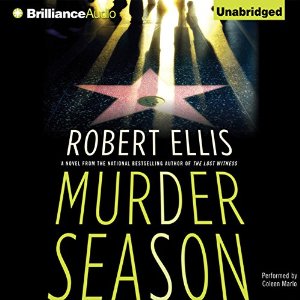 Murder Season By Robert Ellis AudioBook Free Download
Written by: Robert Ellis
Narrated by: Coleen Marlo
Length: 8 hrs and 39 mins 
Series: Lena Gamble, Book 3
Unabridged Audiobook
Release Date:12-06-11
Publisher: Brilliance Audio
Murder Season AudioBook Summary
Detective Lena Gamble knows how to handle the hottest cases – do it fast and keep her head down because if it all goes south, the department won't hesitate to make a scapegoat out of her. So when she gets called to the scene of a double murder at Club 3 AM, the A-list hangout for Hollywood celebs, she knows the fun is only beginning.
And she's not wrong. It's just much worse than that. As expected, one of the victims is club owner Johnny Bosco, one of the most well-connected men in Hollywood politics. But the shocker comes when Lena sees the other: 25-year-old Jacob Gant, acquitted just days ago of murdering his 16-year-old neighbor, after L.A.'s latest trial-of-the-century. But are these victims of a father's righteous anger or is something bigger at play?
Robert Ellis's third white-knuckled thriller delivers all the twists and turns fans have come to expect, with plenty more to spare.
File Size: 119.2 MB
Format: MP3
Download
https://rg.to/file/179942dd0e63094cfd71caab8cbd3ddd/01_Murder_Season.mp3.html