Move or Die By Chris Carlisle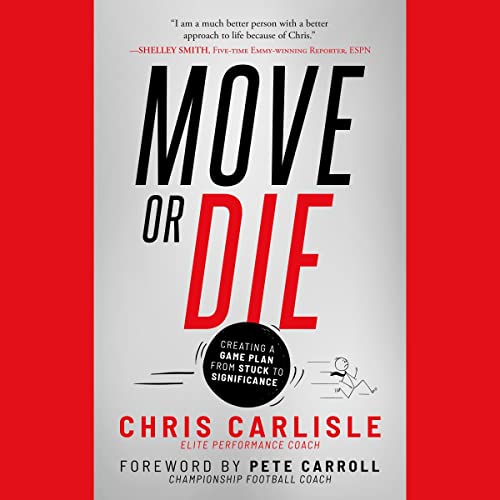 Narrated by: Frank Lawler
Length: 5 hrs and 2 mins
Release date: 07-19-22
Move or Die By Chris Carlisle AudioBook Summary
"… (the) lessons, words, vision, and inspirational stories not only impacted me in the NFL, but as a man. I am grateful for his significance in my life … we either 'move' or we 'die.'"—Russell Wilson, NFL Quarterback
Chris Carlisle, former Super Bowl Champion Performance Coach, has written a book that blazes a clear path from where you presently are to where you expect to be.
There are two kinds of people in the world: those who are stuck and those who are moving towards accomplishing their grandest dreams. Which one are you?
On one hand, there are people who became stuck behind life's barriers and eventually stagnated because they had no idea how to move on. Without a plan to move forward, these people will eventually face their professional death. On the other hand, there are people who were confronted with similar issues but had the tools to find a way to continue moving towards their dreams and goals. They kept on moving down the line, and so can you.
Chris's ideas come from his own experience and work shaping the ideals of the highly motivated. From dealing with his own hardships to helping others battle through intense competitions, Carlisle has found a way to break through barriers.
Download
https://rg.to/file/34cd980b83f6b3f8b3af2e5df3798038/Chris_Carlisle_-_Move_or_Die.m4b.html