Mountain of the Dead By Keith McCloskey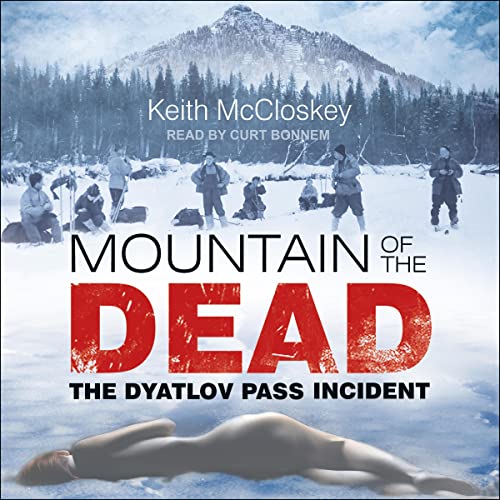 Narrated by: Curt Bonnem
Length: 6 hrs and 52 mins
Release date: 01-11-22
Mountain of the Dead AudioBook Summary
The Dyatlov Pass incident resulted in nine unsolved, mysterious deaths; Keith McCloskey attempts to decipher the bizarre events that led up to that night and the subsequent aftermath.
In January 1959, 10 experienced young skiers set out to travel to a mountain named Mount Otorten in the far north of Russia. During the trip, one of the skiers fell ill and returned. The remaining nine lost their way and ended up on another mountain slope known as Kholat Syakhl, or "Mountain of the Dead".
On the night of February 1, 1959, something or someone caused the skiers to flee their tent in terror, using knives to slash their way out instead of using the entrance. When they failed to return home, search parties were sent out and their bodies were found, some with massive internal injuries but all without external marks. The autopsy report showed that the injuries were caused by "an unknown compelling force". The area was sealed off for years and the deaths and events of that night remained unexplained.
Download
https://rg.to/file/76638f94e14c288be863c02eeeca126b/Keith_McCloskey_-_Mountain_of_The_Dead.zip.html