Modern Romance | Aziz Ansari , Eric Klinenberg | AudioBook Download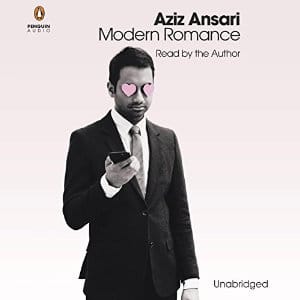 Modern Romance By Aziz Ansari , Eric Klinenberg AudioBook Download
Written by: Aziz Ansari , Eric Klinenberg
Narrated by: Aziz Ansari , Eric Klinenberg
Length: 6 hrs and 14 mins 
Unabridged Audiobook
Release Date:06-16-15
Publisher: Penguin Audio
Modern Romance AudioBook Summary
Aziz Ansari gets it: modern romance is laugh-out-loud funny.
That said, people might wonder what's wrong with you when you're listening to this book. Your hysterical cackling could be cause for alarm; your knowing nods while you stare into space could raise eyebrows. These mild embarrassments are well worth it.
Even better, Ansari has something to say. At some point every one of us embarks on a journey to find love. We meet people, date, get into and out of relationships, all with the hope of finding someone with whom we share a deep connection. This seems standard now, but it's wildly different from what people did even just decades ago. Single people today have more romantic options than at any point in human history. With technology, our abilities to connect with and sort through these options are staggering. So why are so many people frustrated?
Some of our problems are unique to our time. "Why did this guy just text me an emoji of a pizza?" "Should I go out with this girl even though she listed Combos as one of her favorite snack foods? Combos?!" "My girlfriend just got a message from some dude named Nathan. Who's Nathan? Did he just send her a photo of his penis? Should I check just to be sure?"
But the transformation of our romantic lives can't be explained by technology alone. A few decades ago, people would find a decent person who lived in their neighborhood. Their families would meet, and, after deciding neither party seemed like a murderer, they would get married and soon have a kid, all by the time they were 24. Today people marry later than ever and spend years of their lives on a quest to find the perfect person.
As for finding that soul mate? Keep your eyes peeled for other headphone-wearers laughing like demented fools. They might be listening to Modern Romance, too.
File Size: 171.6 MB
Format: MP3
Download
https://rg.to/file/5e87b8261324c983ae428f6bbf4811c6/Modern_Romance_An_Investigation.mp3.html