Mini Shopaholic | Sophie Kinsella | AudioBook Download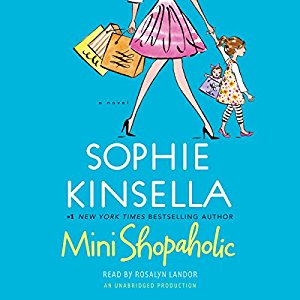 Mini Shopaholic By Sophie Kinsella AudioBook Download
Written by: Sophie Kinsella
Narrated by: Rosalyn Landor
Length: 13 hrs and 41 mins 
Series: Shopaholic, Book 6
Unabridged Audiobook
Release Date:09-21-10
Publisher: Random House Audio
Mini Shopaholic AudioBook Summary
Nothing comes between Becky Brandon (née Bloomwood) and her bargains. Neither act of God nor budget crunch can shatter her dreams of wall-to-wall Prada. Every milestone in her well-shopped life (travel, long-lost sister, marriage, pregnancy) inspires new vistas to explore in the name of retail therapy. But now she faces her greatest little challenge yet: Becky's two-year-old daughter, Minnie.
While motherhood has been everything Becky dreamed it would be – Baby Dior, Little Marc Jacobs, and Dolce & Gabbana for toddlers – adorable Minnie is wreaking havoc everywhere she goes, from Harrods to her own christening. Her favorite word is "MINE!" and her penchant for Balenciaga bags, Chanel sunglasses, and online purchases has no rival under age five.
Becky is at her wits end. On top of this, she and her husband Luke are still living with her parents. Thankfully, it appears house buying attempt number four is a go! Until a huge financial crisis causes panic everywhere, and nobody wants to shop – not Becky's personal shopping clientele, not her friends, nobody. And with Luke in the doldrums, it's time for Becky to step in – with a party: A surprise birthday party for Luke (on a budget) is the perfect antidote to everyone's woes. At first….
File Size: 570.87 MB
Download
https://rapidgator.net/file/582dda72417ccb19bf70449935f01d7b/Sophie_Kinsella_-_Mini_Shopaholic.zip.html