Messi vs. Ronaldo By Jonathan Clegg, Joshua Robinson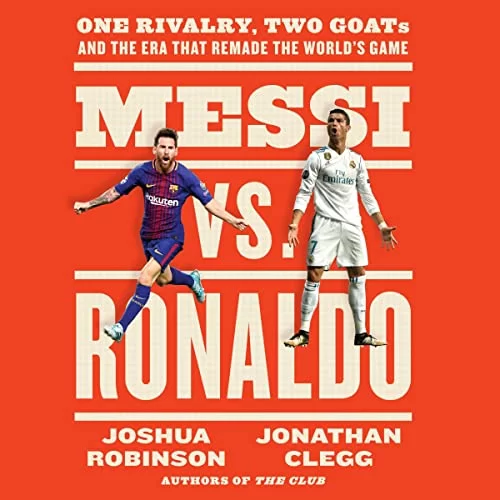 Narrated by: Charles Constant
Length: 10 hrs and 29 mins
Release date: 11-01-22
Messi vs. Ronaldo By Jonathan Clegg, Joshua Robinson AudioBook Summary
Wall Street Journal reporters Joshua Robinson and Jonathan Clegg offer a deeply reported account of the intertwined sagas and legacies of two of the greatest soccer players of all time—Lionel Messi and Cristiano Ronaldo—examining how their rivalry has grown from a personal competition to a multibillion-dollar industry, paralleling the stunning rise, overwhelming excesses, and uncertain future of modern international soccer.
For more than 15 years, almost any conversation about international soccer has always come back to two players—Lionel Messi and Cristiano Ronaldo—undoubtedly the greatest of their generation but with styles, attitudes, and fanbases that couldn't be more different. For millions of people around the world "Messi or Ronaldo?" isn't simply a barroom argument, or an affirmation of fandom, so much as a statement of philosophy, of values, of what global soccer is today and of what it will be tomorrow.
Now Wall Street Journal reporters and coauthors of The Club Joshua Robinson and Jonathan Clegg unite the stories of Messi and Ronaldo into a single modern epic of global sports, detailing how one rivalry changed both the game and the business of international soccer—forever. Based on dozens of firsthand accounts and years of original reporting, Messi vs. Ronaldo weaves together the stakes, color, and characters at the heart of each man's story, going inside the locker rooms and boardrooms where their legends were forged and revealing off-field drama as gripping as anything that happened on it. From their contrasting origin stories to their divergent career arcs and their conflicting reputations, these players have built their successes on opposite paths, yet each, in his own way, offers a riveting tale of triumph and excess. Taken together, their story embodies the astronomical growth of international soccer, how social media has revolutionized the power of sports celebrity, and how the desire to capitalize on the billions of dollars these players represent electrified some of the most storied clubs in Europe—Barcelona, Real Madrid, and Manchester United among them—and cost them almost everything.
Download
https://rg.to/file/5e12abc1375c1e2bc0f8b5e88a17da14/Jonathan_Clegg,Joshua_Robinson-_Messi_vs._Ronaldo.m4b.html